Free diver t-shirt for all liveboard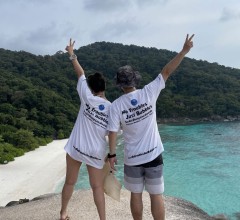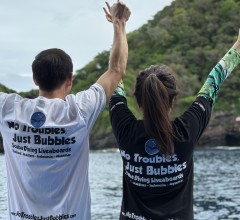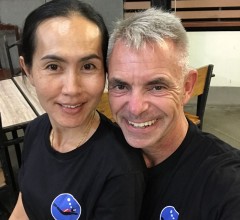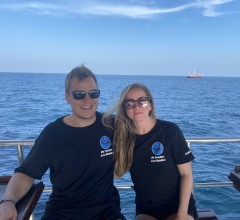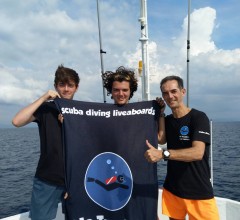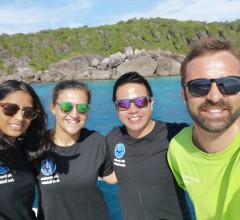 Every guest taking part on a liveaboard cruise will receive a free scuba divers t-shirt.
FREE dive T-shirt
The Similan Islands
The Similan Islands is a group of 8-9 islands 60km from the mainland, all of which are uninhabited by humans. Only national park rangers stay there, along with some non-diving tourists in huts & tents. The royal family own and regularly visit at least one of the islands, which is out of bounds to the general public. While this area is known as the best place in Thailand to dive, this is a grey area, because it's technically not true. The chain of islands known as Koh Similan #1 - #9 are indeed home to some very beautiful sloping coral reefs on their east side and granite boulder formations on their west.
However, 23km. & 46km. north-northeast of the Similans are the islands known as Koh Bon & Koh Tachai. These islands are technically within the Similan National Marine Park, but often regarded to as within the 'northern sites' that also includes Richelieu Rock. Koh Bon is an island with no beach, but under the water's surface are two or three wonderful dive sites, and where Manta Rays are often spotted in the months between February and May. Koh Bon may be famous for Manta Rays, but it has much more to offer, with its marine life able to enjoy nutrient-rich waters that bring lots of life. Koh Tachai also has a couple of diving areas, and these are formed by huge granite boulders under the sea. Currents are often stronger at Koh Tachai, but these currents bring food for the resident and pelagic species. Divers are able to find shelter from the current among the boulders. Koh Tachai has a pristine beach, but from May 2016 this beach was closed to the public so that it can recover and restore its natural beauty. Both Koh Bon and Koh Tachai benefit from being far away from the mainland and are therefore untouched by human development.
Richelieu Rock is undoubtedly Thailand's premier dive site. Other than at very low tide, Richelieu Rock is completely underwater. It isn't an island, and it isn't near an island. Technically, it is located within the Surin Islands National Marine Park, but most diving visitors to Richelieu come from the Similans area. Basically, it's an underwater mountain that is surrounded by deep clear water. This makes it a haven for lots of resident marine life, as well as a popular place to visit by pelagic species which include Whale Sharks, Manta Rays, Barracuda and even dolphins & whales. Day trip diving boats dive Richelieu Rock twice on the same day, and liveaboard diving boats offer three or more dives there. It really is good enough to be dived repeatedly without becoming boring.
The Southern Dive Sites
This area is still in the Andaman Sea, but tucked behind Phuket. This location offers a little more protection from the wind and waves from the Indian Ocean, but with some awesome diving opportunities. There are four main areas, which are Koh Haa, Hin Daeng/Muang, Koh Phi Phi, and Phuket.
Koh Haa means 'Five Islands' in the local Thai language. This five-island mini archipelago is uninhabited and has some really good diving sites, as well as being good for snorkelling and relaxing on pristine beaches. It's far enough away to avoid development and human settlement, but near enough to visit by day trip from Koh Lanta, or better still as part of a 3D3N liveaboard trip from Phuket.
Hin Daeng & Hin Muang are undersea mounts out in the middle of a large area of sea. Like Richelieu Rock, these two pinnacles are a magnet for pelagic species and home to hundreds of thousands of fish and critters. Again, like Koh Haa, these twin dive sites can be visited as part of a day trip from Koh Lanta or Koh Phi Phi, but are better enjoyed on a liveaboard cruise.
Koh Phi Phi is a world-famous mini group of islands, only one of which can be stayed on by humans. Phi Phi is home to the famous Maya Bay, which is almost next to the tiny islets of Bida Nok and Bida Nai. Great diving can be enjoyed here by all levels of scuba diver.
Phuket has lots of dive sites within reach of day trip boats, and these include Anemone Reef, Koh Doc Mai, King Cruiser Wreck and Shark Point, all of which are located between Phuket and Phi Phi. Also, to the south of Phuket are the Racha Islands, which are good, too.
Myanmar/Burma
Although Myanmar (also known as Burma) is a different country to Thailand, most diving cruises in Myanmar's Mergui Archipelago depart from and return to Khao Lak or Ranong in Thailand. After being closed to general tourism for decades, this area is largely unexplored by recreational divers. Some of the reefs are still undiscovered, making for an exciting short and mid-term future for diving in this area. Burma Banks, Black Rock, McLeod Island and Tower Rock are just a few of the best-known diving areas in the southernmost parts of Myanmar. Some Burma diving safaris sail directly from a pier in Thailand to clear immigration and then go diving only in Myanmar, but some also dive in Thailand at the beginning and/or end of the trip.