Diving Day Trips: While we have a selection of day trip diving boats to the Similan Islands, Richelieu Rock, Koh Bon & Koh Tachai, these are not our best-selling trips. Taking into account the cost and time required for each 2-dive day trip, the reward must be something special to balance the sacrifice. Divers are picked up from their Khao Lak hotel or resort at times between 6.45 – 8.30am, but 7.15-7.30am is most common. Then the speedboat or catamaran leaves the pier for a fast and sometimes bumpy ride of at least one hour, usually 90 minutes. Due to the cost of fuel and need for speed, these are journeys which focus on 'getting there' much more than luxury or comfort. It's not easy to hold a conversation on the move, and especially hard to eat, drink, or read a book. Similan diving day trips usually cost about $150 USD and offer two dives. More than two dives is very difficult on a day trip due to the time divers need to spend 'off gassing' at the surface and the distance to travel back and forth. Depending on the boat, the destination and your Khao Lak hotel's location, expect to be back around 4-6pm. However, diving day trips at the Similans is very popular with those who are staying in a luxury Khao Lak hotel or have a spouse and/or children who don't dive. It enables divers to enjoy the comfort of staying in one of Thailand's best-kept secrets (Khao Lak) and at the same time diving at the best dive sites in the country. And finally, it's worth noting that a large percentage of divers do not like sleeping on a boat, however large or comfortable the bed and cabin may be.
Overnight Diving Trips: These trips are extremely popular, and account for the largest percentage of trips that we sell. The reasons for this are mainly the flexibility to fit each guest's schedule and the fact that they are extremely good value. Often referred to as 'platform boats' offering 'flexible liveaboard trips' the concept is designed to perfectly fit the schedule of almost any diving guest coming to Khao Lak. Sadly, for divers staying in Phuket, these trips are not suitable due to the distances needed to travel for a morning departure. Overnight trips are often (but not always) 2D1N in duration. But sometimes, they can be 3D2N or even 4D3N. The way the trips work is that the main diving boats stay out at sea for several months without returning to land. Speedboats are used every morning and afternoon to transport diving guests, dive staff, food, fuel and equipment to the large dive boats. These dive boats do not stay in one place. They move around during the day and visit up to 28 dive sites each week, ensuring that divers get to enjoy a variation of wonderful dive sites without repetition. Although the demographic of guests and sometimes dive staff changes on a daily basis, these trips remain very popular indeed. Guests enjoy 3 dives on departure day (mid-morning, lunchtime & early afternoon) and on the final day they dive early morning, mid-morning and lunchtime, so a 2D1N trip gives you 6 dives. 3D2N trips have 10 dives because on the middle day you do all four dives. Food, drinking water, tea & coffee are included in the rates, as are of course accommodation in air-conditioned cabins. In summary, these trips make for excellent value because of the $-per-dive cost and no need for paying for a hotel or meals in a restaurant. There are also a couple of boats, such as MY Genesis and Nangnuan that offer 3D2N trips without speedboat transfers, and guests don't change during the cruise.
3 Day / 3 Night Liveaboard Diving Trips: Three-Day, Three-Night scuba diving liveaboard trips are the shortest 'scheduled' trips that depart in the evening. 'Scheduled trips' are different from Flexible trips because everyone on board (guests, staff and crew) remains the same from start to finish. An evening departure enable everyone to be more relaxed, the team to have more time to collect guests, fit equipment and give briefings. If departure is delayed by an hour or two, this doesn't affect the diving schedule at all. 3D3N trips offer 9-11 dives, but most commonly 10 (4+4+2). This is not quite enough time to explore all of the Similans, Koh Bon, Koh Tachai and Richelieu Rock, but it is plenty of time to really enjoy some excellent diving at plenty of different dive sites. Trips of this length usually focus on just the Similans, the Similans & Koh Bon, or Koh Bon, Koh Tachai & Richelieu Rock. It's not easy to visit them all without a bit of a rush. While 4D4N trips are generally a more popular choice by the owners of large boats, this length of trip is ideal for those divers who want a good balance of diving without being away from land for too long.
4 Day / 4 Night Liveaboard Diving Trips: This length of Similan liveaboard diving trip is regarded by many as the 'norm.' Dive operators who have been running trips for 10 or more years tend to offer this length of trip first and most. Also, the larger and more luxurious boats usually offer only 4D4N trips. This length of diving cruise in the Similans is ideal for diving guests to fully enjoy the best diving in Thailand. 14 dives (4+4+4+2) is the perfect amount to get the most out of a dive cruise without overload or missing out on anything. The 'regular' Similan Islands have a good blend of dive sites that offer divers a combination of colourful reefs, granite boulders and exciting marine life. Then after a day or two of the 'regular' Similans, the boats sail north to Koh Bon, which is where pelagic species such as Manta rays are often sighted. North from Koh Bon is Koh Tachai, famous for huge granite boulders and plenty of exciting undersea creatures. Then a little further north again is Richelieu Rock. A 4D/4N diving cruise is the perfect length to fully enjoy all of Thailand's best dive sites, but without repeating anything unnecessarily or missing anything special. The dive operators don't choose this length of trip as their mainstay of Similan Islands diving cruises for no reason. They are an ideal length to give everyone on board the best experience and value.
Liveaboard Guests - Free T-shirt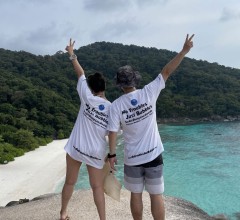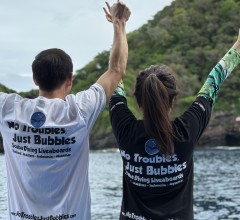 All of our liveaboard guests will get a No Troubles Just Bubbles diver t-shirt for FREE
FREE dive T-shirt
5 Day / 5 Night Liveaboard Diving Trips: Trips longer than 4D/4N are for divers who really want to see everything. There is a good selection of dive boats offering trips this length, including budget, mid-range and luxury. 5-day trips give divers the opportunity to enjoy up to 19 dives, ensuring that nothing is missed out and that the very best dive sites are visited at least twice. Like the 3D/3N and 4D/4N trips, these depart in the evening (usually from Khao Lak) and sail through the night. Guests are given a boat and safety briefing and get to know one another over dinner and maybe some drinks. Then once the action starts, 4 dives per day for 4 days, then 2 or 3 dives on the final day before the boat returns to port mid/late afternoon. These longer trips are very popular, partly due to the fact that the $-per-dive prices are such good value. Also, it is no unheard of for some people to decide to skip a dive, maybe wanting an early-afternoon beer or a nap, and doing so on a trip with so many dives is less of a loss when compared to skipping a dive on a shorter trip.
Longer Similan Liveaboard trips: Similan diving liveaboard trips are rarely more than 5D5N in length, except for one or two boats, such as Marco Polo. Divers who want to spend a week or more on a diving liveaboard boat at Thailand's Similan Islands can easily do so, but due to the extra time spent on board, these boats offer something a bit special. 160km (100 miles) southeast from the Similans is another area known for great diving. Hin Daeng, Hin Muang and Koh Haa are a perfect complement to The Similans. A few day trip boats visit these dive spots, but not many liveaboards do. That means that liveaboard visitors to these dive sites are almost guaranteed to be the only divers for the early morning and final (sunset) dive of each day. Our 7D7N and 8D8N trips combine these southern dive areas with The Similan Islands, Koh Bon, Koh Tachai and Richelieu Rock to make a perfect supercruise. They normally spend the first 3 days at Koh Haa, Hin Daeng, Hin Muang and around Phuket, then cruise through the night up to the Similan Islands for 4 or 5 more days of fantastic diving.