Please wait
Please wait loading cabin/trip info
3,000 THB Discount on departures in April & May 2020
2,000 THB discount on selected trips in Jan, Feb, & March.
Boat Overview
MV Manta Queen 2 Overview
Read all MV Manta Queen 2 reviews
Type: Liveaboard
Departs from: Khao Lak.
No. of guests: 20
Prices from:
17,600
14,600
THB
per diver
MV Manta Queen 2 offers a unique option for divers who want to get in the water to experience the best diving Thailand has to offer. The three-day, three-night cruises avoid the large number of boats which sometimes fight over the best Similan Islands dive sites. Instead MQ2 sails north to the slightly more challenging diving destinations of Koh Bon, Koh Tachai, and the world-famous Richelieu Rock. On the way back, she stops off at one or two wreck sites to finish off the cruise.
These 'northern dive sites' are regarded as a little bit more challenging than those around The Similan Islands, but the rewards are well worth it. The diving conditions and marine life at MQ2's diving destinations are the best in Thailand. Currents can sometimes be an issue at Koh Tachai, but each dive at all locations is planned to be as safe and enjoyable as possible, and they always consider each diver's level, experience, needs & requests.
Manta Queen 2 is a professionally-run boat that offers air-conditioning, excellent food and lots of comfort and safety features. There are three types of cabin available, including 4-bunk shared, twins and doubles. During most seasons, Manta Queen 2 liveaboard trips are among our best sellers. Our guests often get to see Manta Rays and the occasional Whale Shark.
Every trip goes as smooth as silk, with the fun but professional team of western diving staff and local crew taking good care of everyone on board. You don't need to be a professional or highly-experienced diver to enjoy the more-challenging dive sites which the boat visits, but Advanced divers and those with more than 20 logged dives will be able to spend longer underwater than inexperienced divers. However, everyone is very welcome and able to visit these best diving sites in Thailand.
All meals, tea, coffee, drinking water and snacks are all for free on board, as are pick ups from Khao Lak, and dropping guests off at the end of the cruise.
Some other websites show that MQ2 has free Wi-Fi, which it does, but please note that for most of the cruise you will be out of range to use it. Also, other websites may advertise MQ2's trips as 4D/3N, but they are not. They are 3D/3N, departing in the evening and returning in the afternoon. Therefore, any website that shows 4D/3N and a 'per day price' is likely to mislead you because the trip price should be divided by three, not four.
Genuine MV Manta Queen 2 Reviews
Read real reviews from people who have dived with MV Manta Queen 2
Dive date: 16 February 2019
The boat is awesome. All thai crews are very fantastic. Food is healthy and tastes good. I enjoy the most with the Richelieu Rock, which is undeniable of one of the best dive site in the world.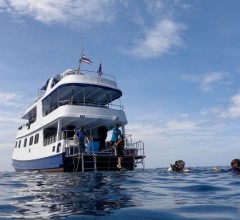 Mike
Divers Nationality: New Zealander
Dive date: 04 November 2018
Dive sites were amazing and your service and communication was prompt and courteous. You did a great job getting us there. MQ2 didn't really meet our expectations - it's basically a backpackers/budget experience. Maybe we didn't ask enough que
stions, but NTJB left money on the table by not recommending us the MQ3 trip that left at the same time for one extra night.
...read more
Dive date: 19 December 2017
Crew were very friendly and helpful especially on the dive deck (you rarely have to prepare things yourself). The boat is very clean, food is good and snacks are available between dives. The check in was a bit inefficient but it didn't affect the tri
p so not too big of a deal. One thing to note is the smoking; they don't have a designated smoking area so some people will just smoke in the dining area, so just take note of that. Otherwise everything is great, just would be nice to have some connectivity.
...read more
Philippe
Divers Nationality: French
Dive date: 19 December 2017
This was a very good trip. The guides were all very good, friendly and helpful, paying attention to everyone's need and adapting to each level for a more personalized experience. The boat was extremely clean and the food excellent. The Thai crew was
also super helpful and experienced. Organization was really great, ensuring safety of everyone on board but also providing great insights. Dive briefs were excellent. Thank you to Woody for being such a great and patient guide. Much appreciated. Also his leadership was great for the whole crew. Jay, Marcel, Alex and Khun A were all great. I would definitively recommend this to a friend. if I had to make some suggestions, there would be just a couple: 1. Restrict smoking to a single area, removed from the main area. This was very annoying with many people smoking all the time everywhere. 2. Check-in could be a little improved. We were left somewhat in the dark on arrival to the shop. We were not sure what to do and no-one to tell us anything. We just waited
...read more
Michael Yam
Divers Nationality: Singaporean
Dive date: 04 May 2017
Everything had been good, the crew was good, food was good! Esp the dive instructor Nick, he was very funny and helpful! 2 thumbs up! Will come back again in the right season.
Aine
Divers Nationality: Irish
Dive date: 02 April 2017
Great trip, very well organised!
Eric
Divers Nationality: French
Dive date: 21 February 2017
A fun trip on a basic but great boat!
Dive date: 17 February 2017
Food and staff were great. Saw some majestic mantas and a lot of fish. The rental equipment could have been better. I had an issue with equipment malfunction on my last dive.