Please wait
Please wait loading cabin/trip info
MV Manta Queen 7 Overview
Read all MV Manta Queen 7 reviews
Type: Liveaboard
Departs from: Khao Lak.
No. of guests: 22
Prices from:
25,000
22,500
THB
per diver
Manta Queen 7 is a 27m liveaboard diving boat which is well equipped to take up to 22 lucky guests to all of Thailand's best diving sites on the west coast. The boat sails for 4-day & nights, giving you up to 15-dives. There is free Wi-Fi when in range.
The boat has 10 air-conditioned cabins. NEW for 2018-19, MQ7's cabin layout is much more comfortable. There is still a 4-bunk shared cabin, but now the other cabins are twins and doubles. Only the 4 bunk cabin & one of the twin/double cabins use shared bathroom facilities. The other eight cabins all have private en suite bathrooms. The boat has several communal areas for guests to hang out and socialise. These include a large air-conditioned lounge saloon, an outdoor dining area, and a large sundeck up top. It's very easy for small and medium groups to sit together and chat, enjoy a few drinks or a game. It's equally easy for solo guests or couples to find somewhere quiet where to read a book or to just look at the view during the day or night.
Departing from Khao Lak in the evening, Manta Queen 7 liveaboard visits the best dive sites in Thailand. However, the journey for most begins a few hours earlier, when they are picked up free of charge from a range of locations in Khao Lak and Phuket. All in all, guests get to discover some of Thailand's best dive sites up to 15 times during the trip.
A light evening meal is served on departure day, and the diving begins the following morning. Dive groups of up to 5 guests per Divemaster in which divers are put into groups that suit their level, experience and needs. Delicious food is served throughout the trip, and fruits, snacks, tea, coffee & drinking water are always available for free. Cold soft drinks and beer can be bought for very reasonable prices, too.
All the cabins are clean, and guests can enjoy air-conditioned comfort throughout the cruise. However, most guests aboard Manta Queen 7 tend to spend their non-diving time with each other, either socializing on one of the several decks or during excursions to the beaches of uninhabited tropical islands. Safety is most important on any diving safari, but the dive team and crew aboard Manta Queen 7 also try their best to make the cruises as much fun as possible. It's all very relaxed and enjoyable for everyone on board. After four days & nights days together, it's almost guaranteed that long-term relationships begin, and this includes between guests and with our team of dive staff.
Onboard PADI courses are very common for Manta Queen 7 diving guests, mainly due to the competitive rates and great scuba diving conditions that are experienced.
Please note that some websites try to mislead you by advertising these trips as 6D/5N, 5D/5N or 5D/4N which is incorrect. The boat departs in the evening, and you don't dive until the following morning. It returns four days later in the afternoon. For 2022-2023 the boat offers 4D/4N 15-dive cruises.
Genuine MV Manta Queen 7 Reviews
Read real reviews from people who have dived with MV Manta Queen 7
Michelle
Divers Nationality: American
Dive date: 07 April 2023
9

/

10
Just got back from a great dive trip with MQ7. The boat crew and diving guides were amazing and very friendly. I was in a group with Brendan and he was able to find all the cool big and little things on the dives some were firsts for me like a leopar
d shark and Harlequin shrimps. I decided to get my nitrox certification during the trip and it was totally worth it for longer bottom times and feeling better after multiple dives. I would highly recommend MQ7 for a great value for the money.
...read more
Ivan
Divers Nationality: Croatian
Dive date: 24 March 2023
10

/

10
Experienced crew, wonderful dive sites and excellent food. Jamie's support was extraordinary as I had to suddenly change my dates. Thank you!
steve
Divers Nationality: British
Dive date: 03 February 2023
9

/

10
Really enjoyable trip. Great bunch of fellow divers and well looked after by leader and instructors
Laina Tebbutt
Divers Nationality: British
Dive date: 06 January 2023
10

/

10
What a fab trip. Everything from check in to transfer to boat to diving all faultless very smooth transition. Highly recommend, ALL staff just simply incredible very helpful, friendly, knowledgeable and supportive. Mark, Trisha and Harry just great f
un. Just a great experience. Dive sights were explained well and to see such beauty below the water is something else. Good food and plenty of choice. I will defo be booking another trip. See you soon and thank you for an incredible experience with my daughter.
...read more
Julia
Divers Nationality: Austrian
Dive date: 24 March 2022
9

/

10
We had a very good time aboard Manta Queen 7. Jamie was extremely helpful all the way and made sure that everything works out. The boat was as expected, the crew took very good care of us and the food was amazing. We were a bit unlucky with the inst
ructor who was assigned to us as she did not seem to care much about showing us stuff or about problems we had with the equipment, so we took care of asking other members of the diving staff and our problems were addressed immediately. Aside from her the trip was truly amazing and we will definitely come again. 🙂🙂😊
...read more
Noa
Divers Nationality: Dutch
Dive date: 21 November 2018
8

/

10
This was an amazing trip! I really loved it! The crew was very kind and the Thai boatboys where so helpful with getting you equipment on, you would blink and suddenly all you equipment was on. The food was good and more than enough, snacks all day lo
ng so don't worry about the food!
...read more
marc gurney
Divers Nationality: British
Dive date: 15 November 2018
10

/

10
2 nd time and always amazing..
Henri
Divers Nationality: Finnish
Dive date: 25 April 2017
7

/

10
Good food (vegetarian option) Good staff Good boat, enough space Short dives (mainly only 30-45mins) Too many divers on board, crowded dive sites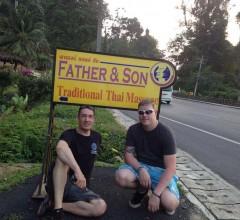 Alan & Craig O'Neill
Divers Nationality: British
Dive date: 26 March 2015
8

/

10
"From the first email to arriving back home. Top class service which was above and beyond. Jamie the agent kept me informed every step of the way he even recommended great place to eat and stay. One morning we overslept and Jamie gave us a wake up ca
ll. Thanks jamie. The boat trip is not to be missed. I will use this company in the future without doubt the best sevice I have ever experienced."
...read more