Scroll down to see boats
Diving at the Similan Islands is never going to be cheap like it is on Koh Tao, but the rates are a lot lower than many people may expect, especially when you consider all that's included, and the number of quality dives you will experience. We have a wide range of 'budget Similan liveaboard boats' and they all offer great value for divers of all ages and backgrounds to enjoy the best Similan diving experiences. Some people want to look at the trip price when choosing the best option, while others focus on the price per dive. On this page you will find plenty to choose from, and we are always on hand ready to offer advice on which budget boat would best suit your needs. Before thinking that the prices you see may be beyond your budget, think about what is included: A room and all your meals, plus up to 4 dives per day. Consider what you would spend on a hotel and restaurant meals, then add a 2-dive day trip to that. Similan liveaboard diving is a lot more affordable than you may have thought it was.
What Can I Expect from a Budget Liveaboard Trip?
All Divers On Budget Similan Liveaboards Get a FREE T-SHIRT!!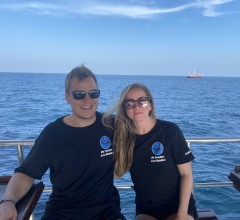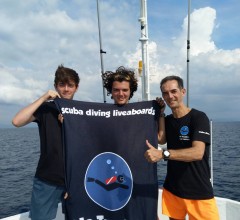 Everyone who books with us on a budget similan liveaboard dive boat will get a free scuba diving t-shirt.
Free T-shirt check it out!
Book with us and get a free dry bag or beach towel!
All but one of our Thailand liveaboards have air-conditioned cabins. Most of them have independent controllers, so guests can select the temperature, but some are controlled centrally. Air-conditioning doesn't cost as much to run as some people expect, because the boats' generators are running anyway and the cabins aren't large, so the units don't have to work too hard.
Full-board accommodation means at least three meals per day, and drinking water, tea & coffee is supplied included in the prices. All of our boats feed the guests very well, and this usually includes three buffet meals per full day, plus unlimited fruits & snacks in between. Diving is hungry work, and the food is plentiful and tasty. It's usually a mix of Asian and Western cuisine, and not spicy. Vegetarian options are always available, and any guests who have special dietary needs can be taken care of, but please let us know in advance of your trip. Soft drinks and beer are available at very reasonable prices.
Free local transfers are included on nearly all of our Similan diving trips. These nearly always include hotels in Khao Lak and Bang Niang areas, and some can collect divers from Phuket for a small fee. These transfers are at set times and shared with other divers who are on the same trip.
Guided diving: Whether you are a professional diver or a novice, your Similan liveaboard diving trip will include the services of a Divemaster guide or Instructor. These guys & girls are experienced in leading divers around the reefs and bays of the Similan Islands, Koh Bon, Koh Tachai & Richelieu Rock, as well as the local wrecks. Even if you think you're good enough to go off on your own, it is not usually allowed, due to the circumstances if something goes wrong. Nearly all of our liveaboard trips have a maximum Divemaster:diver ratio of 1:4, but the Manta Queen fleet have a maximum of 1:5
Quality diving equipment: Just because the price you pay for your diving cruise is less than those on a more luxurious diving trip, that doesn't mean the diving gear you will use will be inferior. All of our boats regularly service and replace the diving gear that they use, and the brands and models of rental gear is actually almost the same on the budget boats as it is the more expensive trips.
Which is the best budget boat for me to choose?
This is a very difficult question to answer, because all of the boats have something special that the others don't. For example, if you just look at the boats such as Dolphin Queen, MV Andaman & Similan Explorer they are not the most attractive or newest vessels, but the teams who operate them are very experienced, and all of our diving guests give us very positive feedback. You should not judge a book by its cover! The Manta Queen boats are among our best-value budget liveaboards, and this includes rental equipment cheaper than nearly all the others. The dive centre office is nice & new, and the selection of trips and departure dates is better than any others'. These boats are ideal for newer divers, as the organisation is very good with regards to everyone having clear instructions and fixed diving times. The team are able to keep prices down by using fewer and younger Divemaster guides and making sure that every trip is full.
The cheapest Similan liveaboard boat is without doubt Nangnuan! Nangnuan takes no more than 8 diving guests and everyone sleeps on the covered roof of the boat for 2 nights. This boat offers 3D2N trips to the Similans and Koh Bon, and is very popular.
Finally, we mustn't forget the flexible budget liveaboard boats of MV Lapat and MV Nemo 1. These two are 'platform boats' which means that they stay out at sea* and divers are transferred by speedboat in the morning. Most stay for 1-3 nights. 2D1N = 6 dives, 3D2N = 10 dives, and 4D3N = 14. The benefits are that they offer total flexibility for each guest's preferred dates, and the prices are also among our cheapest.
*each boat circulates its own set route for 28 different dives each week. They do not stay anchored in one place.
This page has a good selection of budget Similan Liveaboard boats to choose from, but maybe the best thing to do is get in touch with us, and let us know what is most important to you, your diver level and experience and available dates. We can then give you impartial & independent advice & information about which boat or trip would best suit you.
MOD_BOATFILTERSEARCH_PLEASE_WAIT
Average Rating 9.0/10 Based on 373 Diver Reviews for Liveaboards - Budget Similan Island Diving Liveaboard trips