Please wait
Please wait loading cabin/trip info
20% off remaining spaces for October 15-21 & 21-25. Book in July 2018
The Junk Overview
Read all The Junk reviews
Type: Liveaboard
Departs from: Khao Lak. Phuket.
No. of guests: 18
Prices from:
12,800
THB
per diver
The Junk is a very strange name for a very special boat. She is officially called June Hong Chian Lee and is a completely refurbished 60-year-old cargo vessel which was first built in Malaysia using wood from Lang Kawi Island. Nowadays, she takes a select few extremely-lucky passengers on liveaboard diving cruises around the best diving sites of Thailand. Although her age and appearance suggest traditional sailing and far from luxurious living conditions, the opposite is true of this remarkable yacht. She has facilities befitting the best diving and pleasure craft in the Andaman Sea and can comfortably take up to 18 passengers in air-conditioned comfort.
At 33m in length and 8.5m wide, The Junk is a wonderful size for all passengers to enjoy stability and space on board. The traditional design and materials give an intangible feeling of being part of something very special, while modern comforts and conveniences make sure that the happiness lasts throughout the journey. Two Bauer compressors, two motorized tenders (dinghies) and up-to-date safety and communication features are standard, as well as a 40-scuba-tank capacity for the divers.
Those lucky enough to take a cruise on The Junk will enjoy the delicious food, comfortable cabins and communal areas, and can spend hours enjoying the views, reading a novel, watching movies, sharing dive experiences, or learning about the history of this very special boat. She has been used for several movies and is available for charter for very reasonable rates. Diving trips on The Junk are no more expensive than more modern luxury yachts, but have that special 'something' that will last in the memory forever.
Genuine The Junk Reviews
Read real reviews from people who have dived with The Junk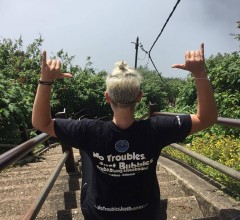 Orla
Divers Nationality: Irish
Dive date: 05 September 2017
Had an AMAZING time on the Junk Liveaboard. We did the 1 night 2 day trip and my only complaint was that it wasn't longer. The boat and dive crew went above and beyond to accommodate us and the food (of which there's PLENTY) is some of the best I had
in Thailand. This is a trip not to be missed, you won't regret it! Absolutely no troubles and many many bubbles!
...read more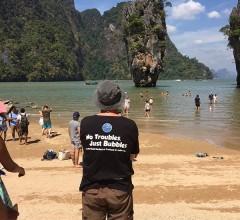 Ken Groves
Divers Nationality: Australian
Dive date: 15 January 2015
"We spent a 4 night trip on The Junk over New Years 2016. All aspects of the trip were perfect, starting with Jamie from Similan Diving Tours and his brilliant customer service. The quality of the dive crew, food and accommodation made our trip one t
o remember."
...read more