Scroll down to see boats
There are a few boats that cruise around the Similan & Surin Islands which are the envy of all others. In addition to private yachts, there are several Similan liveaboard boats which offer the best luxury diving cruises in Thailand. Some of these boats are purpose-built diving vessels with steel hulls, and others are converted yachts that have both character and luxury. Luxurious Similan diving boats make up for a small percentage of our fleet, but the few which we have are very special. Also, the fleet is growing all the time, as we attract more diving guests and more boat owners who ask us to promote & sell their cruises.
What Makes a Luxury Similan Diving Cruise So Special?
Luxury Liveaboard Guests Get A Free T-shirt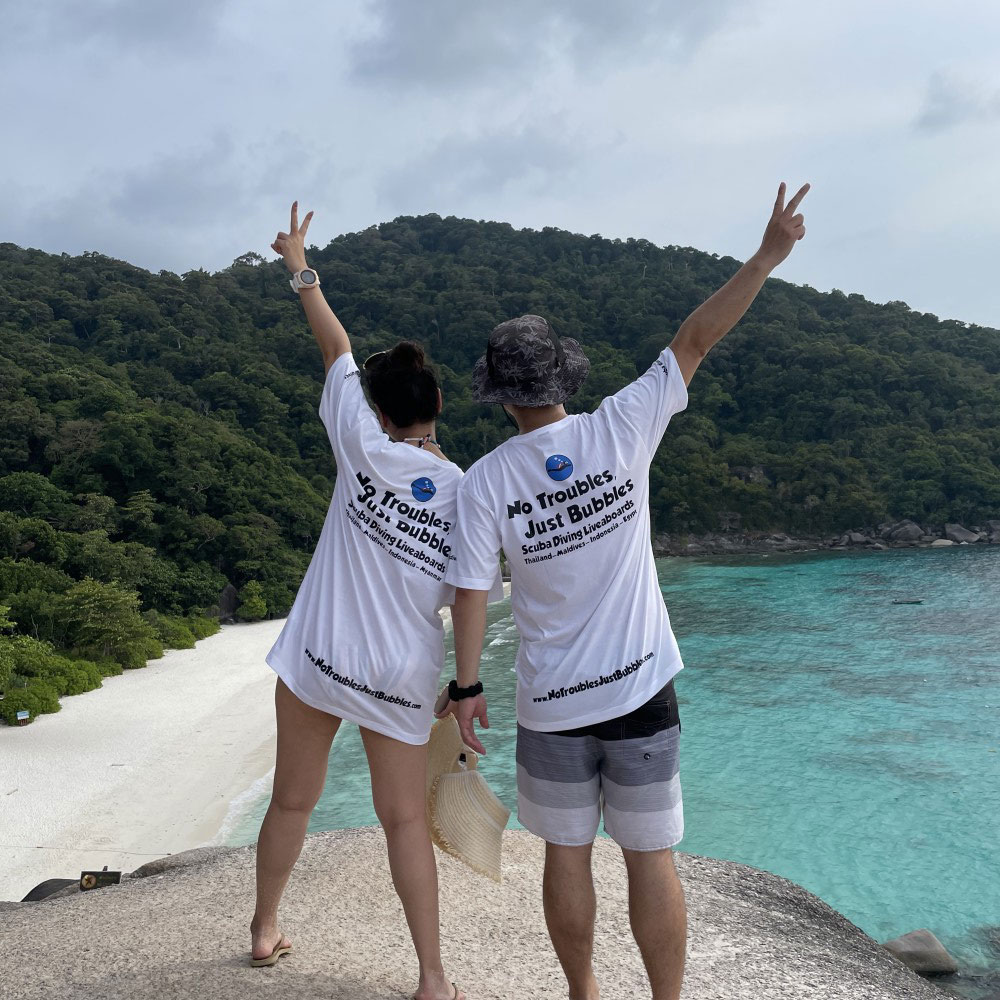 Don't miss out on our unique offer. All liveaboard guests will get a No Troubles Just Bubbles t-shirt absolutely FREE
FREE dive T-shirt
Let's face it, you're on holiday to relax and enjoy yourself. More than that, to treat and pamper yourself. Why come all the way to Thailand and pay to join a full-board scuba diving cruise at the Similan Islands and then make compromises? Provided that budget is not exceeded, it makes sense to get the best luxury and comfort possible to ensure that the whole cruise is enjoyed safely and serenely.
Great food is one of the most important aspects of a luxury Similan Islands diving cruise. Guests on inferior boats are given very little choice of what to eat, and the taste & quality is not nearly as good as you're likely to experience on a better boat. If you calculate how much time you will spend eating compared to diving on a typical-length diving cruise at The Similans, you will soon understand the importance of lots of good food. And this includes fruits, between-meals snacks, and beverages.
The company of other guests can make or break your overall enjoyment of a diving cruise for 4 days to a week or more out at sea. Our luxury diving trips tend to attract a certain type of clientele who can socialise together, but also appreciate that we all need our own space & privacy. Likeminded guests sharing a boat are more likely to get on well together.
The diving staff on a luxury diving liveaboard are much more professional & understanding of the needs of the guests. Instead of telling guests what to do and at what time, more flexibility and better communication skills make for a more enjoyable cruise from start to finish. The diving staff are often fluent in two or more languages and have years of experience on quality diving boats. This experience enables them to fully understand what each guest needs.
The crews on our luxury Similan liveaboard boats are well trained in customer service, and what they may lack in language skills, they more than make up for with discreet but attentive service at any time of day, evening or night.
On lesser boats, the guests tend to only use their cabin or bed for 6-8 hours' sleep and nothing else. However, those on a luxury diving cruise are more inclined to retire to a cabin for an afternoon siesta, to read a book in peace, maybe to do a little office work, or to prepare for an evening meal. A luxurious cabin is a vital aspect to ensuring that a particular boat or cruise can be considered as a luxurious one.
Communal areas on our luxury liveaboards include indoor lounge-saloons, sun decks, and dining areas. While each guest is likely to socialise with others on board, it's vital to be able to find comfortable space for oneself in order to properly relax.
There are so many more unquantifiable differences that make our Similan luxury diving trips and boats stand out from lesser trips and vessels. However, the best way to choose your next diving trip in Thailand is to contact us and let us know what is most important to you, and your available dates. We will be more than happy to explain which cruises you're most likely to enjoy, and give availability information.
MOD_BOATFILTERSEARCH_PLEASE_WAIT
Average Rating 9.1/10 Based on 116 Diver Reviews for Liveaboards - Luxury Similan Liveaboard Scuba Diving Boat Trips