Scroll down to see boats
Longer Than Average Liveaboard Diving Cruises 5 Night Similan Liveaboards
Our most popular Similan Island diving liveaboard cruises are 1-2 nights in length, but the most commonly-offered trip lengths are actually 4D4N & 3D3N. Therefore why would anyone choose, or why would a boat offer, a diving safari at the Similan Islands for 5 or more nights? Well, the answers are quite simple… including 'why not?' We have not only a good selection of 5D5N diving trips to the Similan & Surin Islands, but also trips of a week or more in length. Because the diving is so good, and the dive sites so numerous, it's quite easy to spend 5 or more days and nights in this area and still not repeat any dive sites unnecessarily. Apart from Richelieu Rock, there is usually no need to dive more than once at a dive site unless there has been a particularly special encounter with marine life, such as a Whale Shark or Manta Ray. Even after the tsunami and some coral bleaching in recent years, the Similan Islands is still home to almost 20 wonderful dive sites. Then, a little further north, Koh Bon & Koh Tachai are more rewarding and slightly more challenging. Koh Bon has at least two dive distinctly different sites, and is famous for Manta Ray encounters during the second half of the diving season (February – April). Koh Tachai again has at least two areas to dive at, and although currents can be medium to strong here, the huge granite boulders and teeming marine life guarantee a good dive, plus there is always the chance of something big and special coming through. And, as previously mentioned, the world-famous Richelieu Rock is the best dive site in Thailand and usually dived up to 3 times in one day on most Similan liveaboard diving trips. Richelieu Rock is a submerged underwater pinnacle that is far from the nearest point of land. For an enjoyable 5D5N Similan liveaboard diving trip, you can choose from MV Oktavia, MV Manta Queen 8, MV Similan Explorer, some Andaman Tritan trips and Deep Andaman Queen (at peak season periods).
FREE T-Shirt for all 5+ Night Customers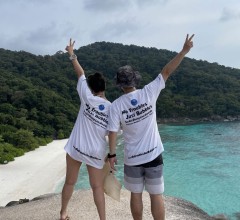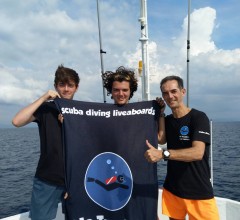 All divers who go on a 5+ night liveaboard dive trip will recieve a Free No Troubles Just bubbles dive T-shirt
Dive T-shirt
So, with plenty of dive sites to visit and enjoy, 5 days and 5 nights enables divers to properly enjoy all of the best, without having to rush or miss anything. In fact, one boat in particular, sails from Phuket and offers 6D6N 22-dive Similan liveaboard trips. Marco Polo is run by an experienced and professional dive centre, and its trips are often fully booked.
All of the above boats offer longer-than-average Similan diving cruises that venture into the Surin National Marine Park, which is home to Richelieu Rock, and some Moken villages at the Surin Islands. 5-day and 6-day diving cruises allow you to fully enjoy all the best dive sites in this area and probably the best in Thailand. However, there is somewhere else, and there are longer trips.
Also on offer, are 7D7N and 8D8N trips which are known as 'super cruises.' For this length of time, just staying around the Similan & Surin marine parks would mean that dive sites are visited more than once, and this is not ideal. But Thailand has another wonderful scuba diving area, that perfectly suits these longer trips' itineraries. Hin Daeng & Hin Muang are very similar to Richelieu Rock, because they are undersea pinnacles which are surrounded by many square kilometres of sea and a haven for some of the best marine life in the world. These dive sites are sometimes visited by daytrip diving boats from Koh Phi Phi and Koh Lanta, but to enjoy them best a Thailand liveaboard trip is the only way. There are no daytrip boats at the breakfast and sunset dives, so these dive sites can be truly awesome if visited on a liveaboard. Then, not too far away are the uninhabited islands known as Koh Haa (translated as '5 islands' in the local language). Spending 3 days and 3 nights at Hin Daeng, Hin Muang & Koh Haa (plus some time at Shark Point & King Cruiser Wreck between Koh Phi Phi & Phuket) is the perfect complement to a further 4D4N or 5D5N trip up at the Similans and Surin. Therefore, a 7D7N or 8D8N supercruise is perfect to enjoy all of the best of the diving in Thailand. Don't be put off by the idea of spending too long on a diving boat, detached from the internet and convenience stores. Longer Thailand diving cruises are extremely popular and really good value. Bunmee 3 and Bunmee 4 are the perfect diving boats to properly enjoy these longer trips.
Finally, let's not forget that from Khao Lak's Tab Lamu Pier and from Ranong a couple of hours further north, a lot of our boats sail into Myanmar (Burma). Some of these trips spend a day or two in Thailand at Richelieu Rock and sometime Koh Tachai / Koh Bon first. They go into the unexplored waters of the Mergui Archipelago. Some trips go further north and northwest than others, but awesome diving and often no other divers is almost guaranteed.
MOD_BOATFILTERSEARCH_PLEASE_WAIT
Average Rating 9.1/10 Based on 185 Diver Reviews for Liveaboards - 5 night liveaboard diving Similan Islands, Richelieu Rock