Please wait
Please wait loading cabin/trip info
MV Sawasdee Fasai Overview
Read all MV Sawasdee Fasai reviews
Type: Liveaboard
Departs from: Khao Lak.
No. of guests: 30
Prices from:
28,700
THB
per diver
Sawasdee Fasai is surely one of the best Similan liveaboard boats and is a certain favourite of ours. The size and construction of the boat ensure safe, stable and comfortable cruises, and there's plenty of places to relax on board. Most of Sawasdee Fasai's cabins have private en suite bathrooms, and all are air conditioned.
Since 2016 MV Sawasdee Fasai has been owned and run by the same team as MV Pawara. That means each trip is extremely well managed by professionals who know how to take the best care of guests of all ages & diving experience levels. Rental equipment is top quality but available at the lowest rates, and the food is simply delicious. Sawasdee Fasai joined the fleet because Pawara had become so successful & popular that many trips were sold out a year in advance. Similan Islands diving guests normally want the best safety and comfort that their budgets allow, and Sawasdee Fasai meets the same high standards that Pawara guests have been enjoying for years. Sawasdee Fasai has the perfect staff & crew to provide the best food, service, safety & professionalism for diving Similan Islands cruises.
There are four types of cabins on Sawasdee Fasai. The main deck has two master cabins that have large sea-view windows, plus there are five twin-bunk deluxe cabins. These also have sea-view windows, and wide single bunk beds. On the lower deck there are four standard cabins that can be configured as twin beds or a large double. All Master, Deluxe, & Standard cabins on Sawasdee Fasai have a private en suite bathroom, a mini safe, and plenty of cupboards & shelves for storing each guest's personal belongings & luggage. Finally, the boat has twin-bed budget cabins that are perfect for divers who want the best value but still enjoy the best diving & the luxury of a larger Similan liveaboard boat. The budget cabins have air conditioning, security safes, and share two large bathrooms on the same deck, that are only used by guests in these cabins.
Sawasdee Fasai has lots of space for guests to socialise or relax. There's a large sundeck on the roof, plus another at the front of the boat. Both of which have all-weather sofas. In addition, there's a large air-conditioned lounge saloon and a dining area at the rear of the main deck. It's very easy for guests to find somewhere to sit together or to find peace & privacy alone. Finally, the dive deck of Sawasdee Fasai is simply huge. This is perfect for storing everyone's equipment and enabling guests to gear up and step into the crystal-clear seas around the best dive sites in Thailand. While a large dive deck doesn't look luxurious, it is vital to the overall enjoyment of guests on a Similan liveaboard cruise. The team of local crew are very service minded and a lot of fun. They help divers into and out of the water. Naturally, Sawasdee Fasai has motorised tender dinghies for beach visits and to retrieve divers who surface away from the main boat.
The trips depart in the evening and you start diving the following morning at an easy Similan Islands dive site. During the trip the boat moves north to Koh Bon, Koh Tachai & Richelieu Rock. There are up to 14 dives and at least one beach visit. Some websites show the trips to be 5D/4N, but this is incorrect & misleading. With an evening departure and mid-afternoon return four days later, the trips are 4D/4N. Don't trust websites that try to mislead you to appear better value.
The kitchen staff and crew, plus the international dive staff, are always on hand to offer help & service, and understand the needs of guests who are on a diving cruise in Thailand. The food is cooked fresh for every meal and served buffet style. It's a mixture of local and western cuisine, always with a vegetarian option. Tea, proper coffee, drinking water, fruit and snacks are available throughout the day, and local beer, wine & soft drinks are available at extremely-reasonable rates.
Dive groups are organised so that everyone dives with others of a similar level, experience, needs & air consumption. Of course, this is flexible if couples, friends or family want to stay together. The timing of divers entering the water is very well organised, to ensure that everyone gets their turn at going in first, and the surface or dive site isn't crowded unnecessarily.
With all these wonderful things, plus Early-Bird discounts for bookings made before the end of August, it's easy to see why so many Sawasdee Fasai trips are full a long time before departure.
Genuine MV Sawasdee Fasai Reviews
Read real reviews from people who have dived with MV Sawasdee Fasai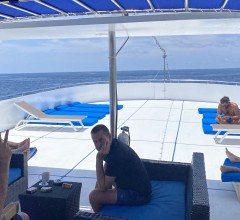 JeromeV
Divers Nationality: French
Dive date: 07 April 2022
9

/

10
The 4-days liveaboard to Similan islands on Sawasdee Fasai was great. Everything was well organized from the first contacts with Jamie to get information up to the end of the the trip and drop off at my next destination. The dives spots were very g
ood, with a lot of marine lives and colors. The staff on the boat were present and supportive all the time. The food was varied and well done. The ambiance was excellent. A special thanks to Jamie who provided clear and precise information before the trip, arranged every requirements we had, and was always available on Line to provide and get the needed information so that our trip went as smooth as ever :) Thank you "No troubles, just bubbles"
...read more
Sharon
Divers Nationality: British
Dive date: 02 April 2022
8

/

10
Great boat with good dive facilities and lots of space to relax so it never felt crowded. Staff were great, both crew and dive instructors. Good food and tons of it!
OlivierT
Divers Nationality: French
Dive date: 23 February 2022
julien
Divers Nationality: Swiss
Dive date: 14 February 2022
7

/

10
Positive: Great crew, great vibe, lovely boat, fantastic thai crew feeding us delicious food, with special care for me, even if I was the only vegetarian on board. Could do my nitrox certification during the trip. Steeve was a great teacher, and fa
ntastic boat leader. Negative: Very extreme schedule, 4 dives a day is a lot for your body, can be ok for some, definitely not for me. Will take a few weeks to recover from the pierced eardrum, infection, and overall body pain (well, this is my problem, I'm too weak for something like this, nothing to blame on the organizers) interesting experience, but my first and last liveaboard. Would recommend only for someone who wants to dive a lot in a really short amount of time, I very much prefer day trips and will focus on that in the future. for Similan themselves, the most beautiful islands in Thailand probably, but few dive sites that worth the ride, would only really recommend Richelieu rock. (this one really totally blew my mind)
...read more
Branislav Gerzo
Divers Nationality: Slovakian
Dive date: 14 February 2022
10

/

10
I got really good time on boat, also my special needs was fulfilled :)
Linda
Divers Nationality: New Zealander
Dive date: 09 February 2022
8

/

10
This was a great trip. A lovely boat and excellent cabin. Good food, good company and service with a smile from the crew. The DM and boat management team were exemplary.
Tom Cross
Divers Nationality: Australian
Dive date: 09 February 2022
9

/

10
Excellent crew and well organised . Lovely boat , particularly the natural timber throughout . Steve did a great job timing our travel between dive sites so as to miss the large numbers on other boats
Kim Bergman
Divers Nationality: Swedish
Dive date: 26 January 2022
10

/

10
Good food, really nice divemasters, our only experience was royal. Join this, and you fall in love❤️