Please wait
Please wait loading cabin/trip info
MV Lapat Overview
Read all MV Lapat reviews
Type: Liveaboard
Departs from: Khao Lak.
No. of guests: 16
Prices from:
12,900
THB
per diver
MV Lapat is a Similan liveaboard diving boat launched in November 2016. Designed by divers, for divers, the boat is specifically built for diving cruises in Thailand's Andaman Sea, including Richelieu Rock. Lapat offers flexible liveaboard trips. This means that you can join on any day of the season, and stay as long as you choose. Of course, this depends on cabin availability. The advantage of flexible trips is that the Similan diving cruise can more-easily fit with your holiday schedule. From the communal areas to the cabins and dive deck, this boat is ideal for couples, solo divers, friends, families, and groups of diving club members.
Starting with the cabins, MV Lapat has 8 cabins on its main deck, each accommodating 2 guests. All the cabins are air-conditioned and designed to be comfortable and practical. The air-conditioners are independently controlled in each cabin, so you can get your chosen temperature. There are six twin cabins which have bunk beds, and two double-bed cabins. The double cabins have private bathrooms. Each cabin has its own large window, with privacy glass. Also on the boat's main deck are the shared bathrooms and the well-designed diving deck. This is where everyone's diving equipment is stored and where divers take a giant stride entry into the crystal-clear water of the Andaman Sea. MV Lapat has a communication system that enables the captain to see what's happening on the dive deck and give the all clear for entry. Divers who are unable to return directly to the rear of the boat at the end of their dive can be picked up by Lapat's dinghy.
The upper deck of MV Lapat has a small indoor and covered outdoor area. The design is modern, but designed to be easily cleaned & durable. Guests can relax in the saloon to escape the heat of the daytime or watch a video in the evening. At the rear of the upper deck is the dining area that is well designed and covered from sunshine and rain. Here guests spend most of the time socialising in small groups or enjoying the sumptuous food that is served buffet-style throughout each day. Diving is hungry work, and the kitchen staff on MV Lapat pride themselves on preparing the tastiest dishes of local and western food, always with a vegetarian option.
The top deck of Lapat is for sun worshippers and star gazers. Here the exposed sundeck is where the best views of the surrounding sea are enjoyed. Sometimes guests even choose to sleep under the stars.
On your first day you arrive by speedboat and do three dives. Then on your final day you dive three times and return to land by speedboat in the afternoon. If you're staying for more than one night, you get four dives per full day.
Each diver on MV Lapat is placed into a group of no more than 5 with a Divemaster guide. The groups are chosen by the experience and certification level of each diver, but special requests are always taken into account. There is a selection of courses available on Lapat as well as equipment for hire.
Genuine MV Lapat Reviews
Read real reviews from people who have dived with MV Lapat
kawing law
Divers Nationality: Hong Kongese
Dive date: 16 November 2022
Courtney
Divers Nationality: American
Dive date: 15 November 2022
9

/

10
A great diving experience! Loved Richelieu Rock. The food on the boat was delicious! Highly recommend
Jelle
Divers Nationality: Netherlander
Dive date: 10 November 2022
10

/

10
I went on the mv lapat and had a great experience. Great crew and fantastic boat. Very friendly, try to give you the best experience and find good dive sites with conditions, skilled dive instructors and good food. Would recommend everybody! Booking
proces was also fantastich with no troubles just bubbles.
...read more
Eugene
Divers Nationality: American
Dive date: 19 April 2022
7

/

10
MV Lapat is a good budget liveaboard option, especially for those who are not used to fancy cruise-like luxury. Food provided was great, and the cabins are small but reasonably comfortable. One thing to remember is that this boat sails between the Si
milans and Richelieu rock, and people arrive and depart daily on a speedboat. Not all of them stay for the liveaboard. Sometimes it can get crazy crowded because of the day-trippers on the boat as happened on the Richelieu rock day. It was difficult to track different groups of divers and often we had to wait a while as there is only 1 dingy with Lapat. But budget is the key word here, so it's probably to be expected.
...read more
Tommy
Divers Nationality: German
Dive date: 08 April 2022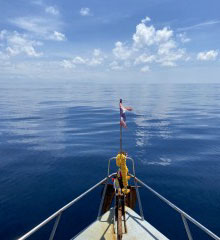 Sandy Boe
Divers Nationality: American
Dive date: 12 February 2022
10

/

10
Our first live aboard experience and our family all agreed we will definitely be planning another in the near future. 3d/2n was a perfect amount with 10 total dives. Our dive master, J, was awesome and the crew was everything helpful/kind. The bo
at was spacious, rooms were clean and everything was just well thought out. Looking forward to our next trip!
...read more
Aleksandra
Divers Nationality: Polish
Dive date: 12 January 2022
Yassir
Divers Nationality: Portuguese
Dive date: 17 December 2021
10

/

10
Amazing service all throughout. Jamie's support was perfect all around and the boat was great. We did a refresher amd the adventure deep dive and all went super smoothly. Highly recommended. Truly no troubles:)
Pat
Divers Nationality: Irish
Dive date: 17 December 2021
10

/

10
Great experience on the 2n3d liveaboard to Surins + Richileu Rock. Excellent diving with a great guide (Jay). Suburb support throughout from Jamie at No Troubles. Looking forward to the next trip already.