Please wait
Please wait loading cabin/trip info
Boat Overview
MV Lapat Overview
Read all MV Lapat reviews
Type: Liveaboard
Departs from: Khao Lak.
No. of guests: 16
Prices from:
13,200
THB
per diver
MV Lapat is a new Similan liveaboard diving boat launched in November 2016. Designed by divers, for divers, the boat is specifically built for diving cruises in Thailand's Andaman Sea, including Richelieu Rock. New for the 2018-2019 season, Lapat will offer flexible liveaboard trips. This means that you can join on any day, and stay as long as you choose. Of course, this depends on cabin availability. The advantage of flexible trips is that the Similan diving cruise can more-easily fit with your holiday schedule. From the communal areas to the cabins and dive deck, this boat is perfect for couples, solo divers, friends, families, and groups of diving club members.
Starting with the cabins, MV Lapat has 8 cabins on its main deck, each accommodating no more than 2 guests. All the cabins are air-conditioned and designed to be comfortable and practical. The air-conditioners are independently controlled in each cabin, so you can get your chosen temperature. There are six twin cabins which have bunk beds, and two double bed cabins. The double cabins have private bathrooms. Each cabin has its own large window, enabling guests to enjoy privacy and natural light. Also on the boat's main deck are the shared bathrooms and the large and well-designed diving deck. This is where everyone's diving equipment is stored and where divers take a giant stride entry into the crystal-clear water of the Andaman Sea. MV Lapat has a communication system that enables the captain to see what's happening on the dive deck and give the all clear for entry. Divers who are unable to return directly to the rear of the boat at the end of their dive can be picked up by Lapat's motorized dinghy, which is also used for transfers to the pristine beaches of The Similan Islands, such as Donald Duck Bay.
The upper deck of MV Lapat has indoor and covered outdoor areas. The lounge saloon is air-conditioned. The design is modern, but designed to be easily cleaned & durable. Guests can relax in the saloon to escape the heat of the daytime or watch a video in the evening. At the rear of the upper deck is the dining area that is well designed and covered from sunshine and rain. Here, guests spend most of the time socialising in small groups or enjoying the sumptuous food that is served buffet-style throughout each day. Diving is hungry work, and the kitchen staff on MV Lapat pride themselves on preparing the tastiest dishes of local and western food, always with a vegetarian option.
The top deck of Lapat is for sun worshippers and star gazers. Here the exposed sundeck is where the best views of the surrounding sea are enjoyed. Sometimes guests even choose to sleep under the stars.
On your first day you arrive by speedboat and do three dives. If you're staying for more than one night, you get four dives per full day. Then on your final day you dive three times and return to land by speedboat in the afternoon.
Each diver on MV Lapat is placed into a group of no more than 5 with a Divemaster guide. The groups are chosen by the experience and certification level of each diver, but special requests are always taken into account. There is a selection of courses available on Lapat as well as equipment for hire.
Genuine MV Lapat Reviews
Read real reviews from people who have dived with MV Lapat
Xavier Tinel
Divers Nationality: French
Dive date: 24 January 2020
Un mot:Merveilleux Une image :il y'en a trop Bref Allez y!!!!
JMiller
Divers Nationality: American
Dive date: 16 January 2020
We had a great experience with an excellent dive master, new and high quality equipment, amazing food on board and a nice boat. Highly recommend.
Sarah
Divers Nationality: Netherlander
Dive date: 03 January 2020
Lessard Luc
Divers Nationality: Canadian
Dive date: 22 November 2019
We did a very long drive from Canada to reach the Similan islands and our expectations were high. With us you also emphasized the importance of having a good dive experience. When we arrived there we were very surprised to find that our dives woul
d be done in the company of beginner divers. The worst happened at Richelieu rock when we had to dive with 150 to 200 divers. I have never seen anything so ridiculous.
...read more
Lambert
Divers Nationality: American
Dive date: 19 October 2019
2nd time on the Lapat..Great Crew..I had a good time.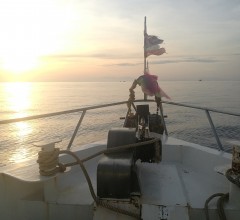 Rose
Divers Nationality: Netherlander
Dive date: 23 April 2019
Enjoyed my 2 days 1 night trip so much! All these divers together, wonderful food, also vegetarian options which was awesome, lovely beds with airco and extremely funny guides! My advise would be to stay overnight so you get the full experience and d
efinitely see Richelieu Rock. It was my best dive of all times!
...read more
griveraherrera
Divers Nationality: Spanish
Dive date: 23 April 2019
Nice stay in MV Lapat. Great crew, always giving the best. The gear ea sin good conditions, the guides madre a great job and the food was very nice. Highly recomended
Jil & Thierry
Divers Nationality: Luxembourger
Dive date: 22 April 2019
We had a great time on the MV Lapat! The crew was very friendly, the food was yummy and the boat was great! Our diveguides Dennis and Tik did everything to make us feel comfortable and we had fun times together, both underwater and on the surface. An
d of course the diving was great! Thanks again for everything!
...read more
Gaëtan
Divers Nationality: Belgian
Dive date: 19 April 2019
Very nice organisation with speed boat and good crew. Just for information the tour leader seems to change all the time and it would be better to have the same way to work. The step of the ladders are in inox it would be easier to have the step in wo
od. Anyway, very good trip.
...read more
anna
Divers Nationality: South Korean
Dive date: 19 April 2019
Instructor, boat crew, dive gear, dive sites, schedule, and food were all amazing! Although, it could be better experienced if the room pillows and toilet were cleaner. Toilet shower didn't drain well, the basin was little dirty and water pressure wa
s very weak. Everything else was perfect. I would definitely recommend this boat and the agent.
...read more