Please wait
Please wait loading cabin/trip info
Deep Andaman Queen Overview
Read all Deep Andaman Queen reviews
Type: Liveaboard
Departs from: Khao Lak. Phuket. Pak Bara
No. of guests: 23
Prices from:
25,500
THB
per diver
Deep Andaman Queen is a wonderful purpose-built liveaboard cruise boat, and one of the largest of those in the Andaman Sea. There are many good reasons to choose to dive with the Deep Andaman Queen, mainly the boat's size, comfort and the professionalism of all the staff & crew. Deep Andaman Queen cruises (sometimes referred to as 'diving safaris') take divers to the best dive sites in Thailand. Also, when the National Marine Parks are closed from May to late October, the boat is available for charter trips in the deep south at Koh Lipe which isn't as affected by the monsoon weather.
The boat is large and comfortable, which adds to its already-high safety standards. Although safety incidents when diving in Thailand are extremely rare, the equipment, qualifications and professionalism of the the Deep Andaman Queen team are all excellent. The boat was completely refurbished in 2019, including the centerpiece of the boat, the master cabins, which offer unbeatable luxury and panoramic views. All cabins are fully air-conditioned with en-suite bathrooms and hot showers, and the boat offers different luxury levels to suit all but the tightest of budgets.
There are six different types of cabin on Deep Andaman Queen. The 'standard' cabins are on the lower deck. There are two twin-bunk cabins, a triple-bunk and one with four single beds. On the main deck there are two deluxe twin cabins, three deluxe double cabins and two master cabins. All main-deck cabins have doors which open out onto the deck giving a wonderful feeling of space and of course a sea view from the windows.
On the upper deck of Deep Andaman Queen there is an air-conditioned lounge, but most people spend their time in the open-air dining area. Here, briefings are held, and you can chat with other guests, or update your log book. Of course, this is also where the delicious and plentiful food is served. The cooks prepare several meals every day including on departure evening. It's a mixture of Western and local cuisine, with something different every day, and vegetarians are also coatered for. Diving is hungry work, but you won't go hungry on Deep Andaman Queen.
Non-divers are welcome on the Deep Andaman Queen, and there is plenty of space for them to relax and sunbathe with a good book, look out for dolphins, or enjoy a dvd in the lounge. Divers on-board have even more to get excited about, though. There is one of the largest diving platforms in the region to safely enter or exit the water. And the benefit of Nitrox on-board which can fill tanks with oxygen mixtures up to 32%. The two motorized dinghies transport divers from where they surface back to the boat, and can take guests to the beach or shallow reefs, too.
Every season we get very positive reviews from each guest that we place on Deep Andaman Queen.
Genuine Deep Andaman Queen Reviews
Read real reviews from people who have dived with Deep Andaman Queen
Johnehr
Divers Nationality: American
Dive date: 17 February 2023
10

/

10
Great time for our first live aboard. The crew was very attentive to everyone's needs throughout the trip. The food and boat were great, it wasn't perfect or luxurious (boats rarely are), but the atmosphere and dives were great. Bahn, Bobby, J
ade and the others were great hosts!
...read more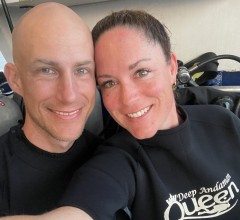 Lena
Divers Nationality: American
Dive date: 17 February 2023
10

/

10
The entire crew was amazing. So attentive and hard working. Not just the dive guides, but everyone working on the boat. They were happy too, regardless of the time of day. I was really impressed with the service. The rooms were also clean and attende
d to, with fresh towels and changed trash bins regularly. Lastly, the dives were thoughtful and all were enjoyable.
...read more
Scott
Divers Nationality: American
Dive date: 12 February 2023
9

/

10
The Deep Andaman Queen staff was fantastic. The dive masters were stellar, food was delicious, plentiful and they accommodated multiple diet restrictions, the double room we stayed in was nice, and the dive equipment was solid. The only reason they a
re not a perfect 10 is because I'm not sure how environmentally friendly they are. It would be awesome if they added some of these elements and talked about it in their dive briefings and boat briefings. If that's what people are looking for though, I'm sure there are other boats for people to book. If not, Deep Andaman Queen is the one to go for.
...read more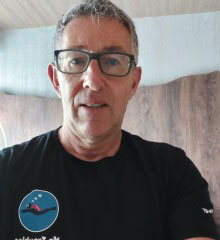 Bob Gilmour
Divers Nationality: British
Dive date: 16 March 2022
9

/

10
Excellent experience! This was only my 2nd liveaboard but I couldn't have asked for (much) more. First class very professional crew, great boat, delicious food and brilliant diving. Mantas, a whale shark, nudis........ Perhaps all I could have ask
ed for is more time!
...read more
Tan Tian Siang
Divers Nationality: Singaporean
Dive date: 20 February 2019
9

/

10
Great service ! Great crew!
Simon604
Divers Nationality: Canadian
Dive date: 18 January 2019
8

/

10
Crew was awesome, dive staff were very knowledgeable and conscious of the pros/cons with diving busy sites. Would dive off this boat again for sure.
Dave
Divers Nationality: American
Dive date: 20 December 2018
10

/

10
Great boat, great crew, great diving. You can't go wrong. Also went from OW to AOW during this trip and appreciated Steve's teaching and commitment to safety. He's an amazing swimmer to see.
Gem
Divers Nationality: British
Dive date: 17 November 2017
10

/

10
A fab trip, really friendly boat crew who go above and beyond to make your trip enjoyable. Delicious Thai food. Amazing diving, with beautiful coral, abundant micro and macro sea life. Great dive team - did my PADI AOW onboard. Very helpful and ef
ficient booking team at notroublesjust bubbles, (Jamie goes above and beyond at all hours of the day to help get you the trip you need with personal touches) working around the clock to ensure that I was able to book the best trip possible for very competitive rates! Already looking to book my next trip out there! Thank you to everyone for making it so enjoyable!
...read more
Nadine
Divers Nationality: Canadian
Dive date: 28 February 2017
9

/

10
First live aboard experience. Great time! Will repeat. Crew exceptional & attentive, food delicious, dives fun & relaxed! Loved! Loved! Loved! Dive master Leanne was awesome and very professional.
Max gang quad
Divers Nationality: Canadian
Dive date: 28 February 2017
9

/

10
We had a great time on the boat. The crew is fantastic and you can't go wrong with their expertise. We would do it again!