Please wait
Please wait loading cabin/trip info
MV Manta Queen 3 Overview
9

/

10

Based on

10

diver reviews
Type: Liveaboard
Departs from: Khao Lak.
No. of guests: 31
Prices from:
20,900
THB
per diver
MV Manta Queen 3 was first launched in 2011, she is a very large ship; the largest in this price range, and offers the cheapest Similan liveaboard diving. Instead of being a modified fishing boat, like so many others are, MQ3 was designed and purpose-built for scuba diving liveaboard trips. With so much space and stability, guests can wander around the decks looking for somewhere to read a book or chill out under the sun or stars. Similan diving tours tend to be very sociable affairs, so divers often mix together and chat in groups. Even those who join the trip alone will make friends both underwater and onboard. All the cabins have air-conditioning and come in different levels of comfort at great-value prices. The majority of cabins are four-berth bunks, plus there are twin cabins, with and without en suite bathrooms. Double bed and master suite cabins both enjoy en suite facilities. All the cabins on Manta Queen 3 are clean and well planned out. Parquet panelling adds class to practicality, causing some guests to be torn between relaxing out on deck and chilling in bed.
Manta Queen 3 has 11 air-conditioned cabins, some of which have en suite private bathrooms and others share. The best-value cabins are the 3-bed & 4-bed shared cabins. For guests who want more privacy but don't want to go over budget, there are two twin-bed cabins which share bathrooms with others. Guests who want a private en suite bathroom can choose from one of the double-twin cabins. These have a double bed and a single bunk, but are sold for no more than two guests - unless a group of 3 friends really want to share. Finally, the best cabin on Manta Queen 3 is the Master Cabin. It has a large double bed & two single bunks. It can be sold to four guests (who are friends/family and book together) or to two guests who want to enjoy more space and privacy.
There is a large sundeck outside and saloon inside for socializing and mealtimes. The diving platform is large, offering space for gearing up and jumping into the crystal-clear waters. Manta Queen 3 dives at The Similan Islands as well as the northern dive sites of Koh Bon, Koh Tachai and the world-famous Richelieu Rock. On the way back to port she stops off at one or two wrecks for the final dives of the trip. Diving at the Similan Islands on Manta Queen 3 is an unforgettable experience, due to the great crew, the ship's size & facilities, the wonderful diving, and the friends you will make. It really is a boat that compares in size, stability and lulxury with much more expensive others, but still offers the best-value liveaboard diving trips in Thailand.
Nitrox (Enriched air) is available for those who are certified. Of course, taking part in a diving course aboard a liveaboard is very common, and Manta Queen 3 offers a range of PADI diving courses at unbeatable prices.
Genuine MV Manta Queen 3 Reviews
Read real reviews from people who have dived with MV Manta Queen 3
Leo
Divers Nationality: Hong Kongese
Dive date: 15 April 2018
Excellent service and dive sites. Underwater current was very strong at some dive sites like 'The Dome' but calm at others. The boat was clean and crew was awesome!
Martijn Dekker
Divers Nationality: Dutch
Dive date: 01 March 2018
Good size boat, Great service by all staff. Knowledgeable and good instructions. Food is great and plenty. Only downside is that the cabin sizes are very small.
Christian
Divers Nationality: Swedish
Dive date: 30 January 2018
Very professional, friendly and enjoyable! Strongly recommend this boat, crew and the whole trip!
Paul
Divers Nationality: American
Dive date: 11 December 2017
Great staff and well run operation.
Thomas
Divers Nationality: Scottish
Dive date: 20 December 2016
Boat and rooms clean and well serviced. Captain and Boat crew excellent. Food menu repetitive use of same ingredients, chicken and.. chicken sausage and.. but above average. Dive Staff over conservative on dives so very safe for inexperienced divers.
Viz was brilliant, ave 29. Healthy reefs virtually NO shoals of pelagics but definitely around in the blue. Swell low for season and good entry and exit procedures, staff know the sites intimately and good at current navigation around the boulder sites.
...read more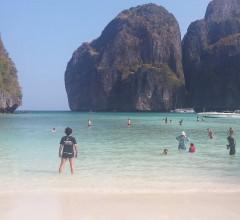 Fabrizio Peruffo
Divers Nationality: Italian
Dive date: 24 March 2016
"Thank you for all!!! The liveaboard was PERFECT!!!! Manta Queen 3 is really nice..and we were only 21 people and after the 3rd day only 14 so plenty of space for us! We saw everything..lots of mantas, sharks, leopard sharks, napoleons, turtles, an
d on the boat me and Nicole also Dolphins!!! "
...read more