Please wait
Please wait loading cabin/trip info
MV Andaman Overview
Read all MV Andaman reviews
Type: Liveaboard
Departs from: Khao Lak.
No. of guests: 20
Prices from:
14,940
THB
per diver
MV Andaman is one of the best-value Similan Islands liveaboard diving boats visiting the Similan Islands & Richelieu Rock, and can accommodate up to twenty guests. There are three different cabin options, which are 6-bed dorm, regular doubles, and doubles with en suite bathrooms. What makes MV Andaman stand out from its peers includes the very-efficient organisation of the team. The owners of MV Andaman have been operating Similan liveaboard diving trips longer than all others. This experience is shown in the safety, comfort, and value of the trips, as well as them knowing what most divers at this price range want from a liveaboard trip in Thailand. The boat's steel hull and design ensure stabilty & comfort throughout the cruise. The rates with and without rental equipment are easily the best value, and therefore very popular. Divers who rent Andaman's equipment are also supplied with a diving computer included in the price. The trips go to all of the best dive sites in Thailand, including as far north as the Surin Islands on trips that include visiting Richelieu Rock. There are 3-day and 4-day trips, and guests can combine two trips at a discounted rate to make a 7-day supercruise. New for 2022-2023, you can even go out for 11 days & nights! Divers of all levels of certification and experience are welcome on MV Andaman, but Open Water divers need to take the PADI Adventure Deep dive on board to become certified to 30m (99ft.), or they can join the PADI Advanced course for an unbeatable price.
In addition, non-diving guests are more than welcome to join each cruise for snorkelling, sunbathing or just enjoying the fresh air, good food and fine company. Non-diving guests receive more discount than on most other Similan liveaboard cruises.
MV Andaman cruises are very popular, and this is not surprising. The professional, experienced and friendly team make sure that everything is taken care of before, during and after each cruise. The range of cabins makes for comfortable and sociable trips. There are two 6-bunk cabins for divers on a budget. These air-conditioned cabins have sea-view windows, and each bed has a privacy curtain. At the front of the boat there are two double bed cabins, which are possibly the best-value double cabins on any Similan liveaboard diving boat. At the rear of the same deck are two more double-bed cabins, but these have their own private en suite bathrooms. Again, the value of these cabins is almost unbeatable, and they are often sold out long in advance. But it's still always worth asking us if one's available, even at the last minute.
On the boat's main deck there a several large covered outdoor areas, where guests enjoy delicious food & dive briefings, or just chill out on bean bags. Here, the guests can look at the beautiful scenery of the Similan & Surin Islands without getting too much sun. You can fill out your logbook in and after-diving enjoy a drink.
Andaman's top deck is for sun worshippers and those wanting to chill and socialise. It's easy to get a better view of your surroundings from up here, and guests spend a lot of time relaxing, chatting, sunbathing or gazing at the clear star-filled skies at night.
Genuine MV Andaman Reviews
Read real reviews from people who have dived with MV Andaman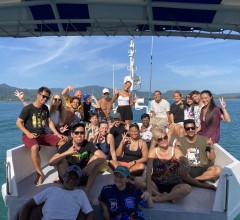 Sven Edlefsen
Divers Nationality: German
Dive date: 08 May 2023
10

/

10
Looking back to a 3 day overwhelming 100% positive energy experience with a bunch of great diverse people ,9 challenging dives. Gorgeous food, 10 small beers. A great UK/Thai team organizing the last trip of the season. Loads of fun and widespread co
mmunication. Excellent support by #notroublesjustbubbles!
...read more
Tanya
Divers Nationality: British
Dive date: 14 April 2023
10

/

10
Did the 5 day Similan Surin liveaboard on the MV Andaman and it was an amazing experience. The crew and diver masters were all lovely people and so accommodating, the food on the boat was amazing, and I met some kind amazing people on the boat. Job m
y dive guide was really good and professional, and always trying to spot sea creatures for us. This boat was one of the cheaper options compared to others I looked it but regardless I absolutely loved it will do again one day!
...read more
Chelsea Smetana
Divers Nationality: Canadian
Dive date: 26 March 2023
9

/

10
Fantastic trip: despite being branded as a no frills « budget » boat, the boat had an espresso coffee maker onboard, electrolyte packages, reusable water bottles, a wide array of medicine, board games etc. What was most appreciated were the small
groups (2-4 people per divemaster) and the thoughtful grouping by experience level. The DM/instructors were professional and safe, the boat crew are great and the food was phenomenal. I would highly recommend this boat. If you need a comfortable bed, bring a mattress pad as the beds are rock hard (you get used to it). Thanks for a great week!
...read more
azotov
Divers Nationality: Russian
Dive date: 09 March 2023
10

/

10
I definitely recommend Andaman. My wife and I were on a four day trip (13 dives). It was unforgettable. The Similan Islands are a great place to dive and the Andaman team did everything to make the most of this place. The ship was clean and comfortab
le, nice atmosphere and delicious food. All diving equipment is in excellent condition. A team of professionals who are ready to answer any of your questions. The trip went perfectly without any disruption to the schedule and any complications.
...read more
Bebu
Divers Nationality: Spanish
Dive date: 06 March 2023
9

/

10
Super experiencia de principio a fin. Jamie siempre disponible para cualquier cosa (thanks so much Jamie!!!). El equipo de Sea Dragon igualmente, en el barco un ambiente genial, el equipaje y los dive master irreprochables, siempre con la sonrisa. El
barco en foto no atrae mucho pero es muy agradable y funcional. Lo único malo es que en las suite hay muchisimo ruido sobre todo cuando los motores están encendidos. Comida riquísima y en abundancia, si pensabais perder algún kilo durante el crucero, olvidarlo! Spots de buceo muy variados, no los mejores del mundo pero cada día descubres algo que no habías visto antes. 100% recomendable. Y sobre todo nada comparable a este precio
...read more
Carole
Divers Nationality: French
Dive date: 06 March 2023
9

/

10
Très bonne ambiance sur le bateau, super équipe d'encadrement, l'équipage aux petits soins, de belles plongées, des briefings au top et plein d'humour, je ne peux que recommander cette croisière.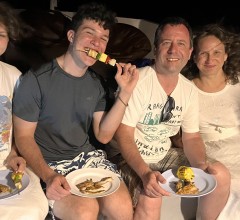 Maciek
Divers Nationality: Polish
Dive date: 17 January 2023
8

/

10
The trip was well organized. The best part was extraordinary dive master. Food was delicious and in varieties also for vege. Dive and boat service was above expectations. The MV Andaman was very basic but recommended to people who are focused on divi
ng not on high accommodation standards.
...read more
Nicolas
Divers Nationality: German
Dive date: 08 January 2023
10

/

10
Had a great trip with the MV Andaman. The crew was amazing, taking care of everyone and providing us with delicious food. We had nice dives, felt absolutely safe and had a lot of fun with the other divers and our instructors!
Adam
Divers Nationality: British
Dive date: 27 December 2022
10

/

10
Couldn't recommend these highly enough. A fantastic few days out on the ocean. A few pre-trip nerves were settled as soon as we arrived at the dive shop. Stephan (owner) was so supportive from that moment onwards, and really endeavoured to make the
trip as comfortable and memorable for everyone, regardless of dive experience. As for the trip itself, we spent 4 nights out at sea, and after some initial sea sickness settled into a very enjoyable routine of eat, nap, dive repeat! Tracey was our dive guide - very knowledgeable while ensuring again that we were comfortable with the pace of the dives, as well as the usual (buoyancy, equalising etc). Some bonus night dives were the highlight - barracudas hunting, a very relaxed guitar shark and interacting with phosphorescence were the highlights. And finally a big thanks to the boat boys and boat chef. Made our lives so easy while ensuring we never went hungry! Would definitely want to return!
...read more
Izzi
Divers Nationality: New Zealander
Dive date: 21 November 2022
10

/

10
Could not recommend this trip more. Beautiful dive sites, super friendly staff on the boat, I felt very safe diving with them and it gave me a lot of confidence after not diving for 4 years. Booking with No Troubles Just Bubbles was seamless too. Jam
ie was so quick to respond and helped me set up a pool refresher before my trip. Can't wait to come back!
...read more