Please wait
Please wait loading cabin/trip info
Sorry MV Stingray is no longer sailing / not running trips.
We would reccommend looking at either MC Sundancer as an alternative day trip dive boat.
MV Stingray Overview
Stingray has now been replaced with a new boat!
click the link below to see the new dive boat
MC Stingray is the ultimate in comfort for those who are unable or unwilling to sleep on a liveaboard boat but want to experience the best of Similan Islands diving. She is a twin-engine twin-hull vessel as big as most liveaboard cruise boats. To call her a speedboat is an injustice as there is so much space and stability on board. At 23 metres long and 7 metres wide she can handle anything that The Andaman Sea can offer and has been doing a terrific job since her launch in 2003. She was purposely-built for her current owner and has taken thousands of guests out for memorable diving day trips. With enough space for more than thirty divers, MC Stingray needs, and has, a massive dive deck and several places for entering or exiting the water.
The communal areas for relaxing or socializing when not underwater are expansive and varied. There's always somewhere to sit and relax alone or chat in small groups. Her new twin MAN 1,100hp engines operate efficiently and smoothly, just like the whole trip. Breakfast and lunch are cooked and served on board, inclusive in the price, as are non-alcoholic drinks. For those who need a beer after the final dive of the day, it's available at very reasonable prices, and always tastes better at sea. Although MC Stingray is capable of taking more than thirty passengers, dive groups in the water are never larger than four per guide, to ensure the maximum in safety and enjoyment. It's certainly no fun being the 7th or 8th diver to be shown a particular sea creature that has probably become scared or bored and disappeared. MC Stingray is the perfect option for those who want to enjoy their Khao Lak hotel or resort and experience Similan Islands and Koh Bon diving at its best.
Genuine MV Stingray Reviews
Read real reviews from people who have dived with MV Stingray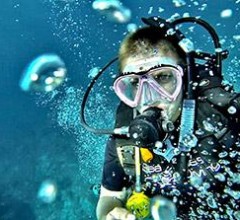 Jozann
Divers Nationality: South African
Dive date: 11 April 2014
Diving the Similian Islands was the experience of a lifetime, it was as if I was in a finding nemo movie with the most colourful fishes swimming around me, I was in awe of God's creation under the sea, truly spectacular. Jamie (@ Similan Diving Tours
) was a star to finding me and my friends the exact experience that we planned for months. Thanks to Jamie for making everything running smoothly… ... the hospitality on the Stingray was heartwarming and the food was excellent, felt like a home on water. Helena our dive master was excellent. If i think back on that dive experience it was certainly one of the top 5 Best times in my life.
...read more