Please wait
Please wait loading cabin/trip info
***Sorry MV Andaman Tritain isn't running trips at the moment. We would reccommend MV Bunmee 4 or MV Camic as an alternative.***
MV Andaman Tritan Overview
Read all MV Andaman Tritan reviews
Type: Liveaboard
Departs from: Khao Lak.
No. of guests: 16
Prices from:
N/A
THB
per diver
At a length of 24.5m, Andaman Tritan is a typical size for most Similan Islands liveaboard diving boats. However, what makes this Thai diving safari boat stand out from the others is the range of cabins at reasonable prices, excellent cuisine, and international management who benefit from experience of diving trips in Indonesia, Singapore, Malaysia and Thailand.
On Similans trips only 16 lucky guests are able to enjoy diving cruises on Andaman Tritan, and those who do are able to choose from a selection of several cabin types, including singles. In addition to two master cabins, there are deluxe cabins with double and twin beds, as well as standard cabins with twin beds on the upper deck and single-bunk cabins on the lower deck. All cabins are air-conditioned and cleaned daily. Therefore, whatever your needs, budget or group size, there's an ideal cabin for you. Guests are spoiled with great meals throughout the day and by the experienced and friendly crew and team of diving staff. There are areas all around the boat to chill alone or with others, which include sunbathing, reading, enjoying photos or videos of the diving, or just enjoying the wonderful scenery.
Andaman Tritan offers liveaboard cruises to the Similan Islands and Richelieu Rock which are 4D/4N in length (or 5D/5N, at special times of year). Please note that these trips are advertised elsewhere as longer than this. This is a little bit misleading, because the boat departs in the evening and returns in the afternoon 4 days later. Although the trips span 5 calendar dates, the 4D/4N trips are only 90 hours in length. Therefore we advertise them in a way which we feel is correct.
Andaman Tritan sails from Khao Lak, 100km to the north of Phuket. Guests are picked up, free of charge, from many locations, then driven to the pier to board the boat. Setting sail in the evening enables guests to get to know one another over dinner and wake up with the boat already having arrived at Thailand's best diving sites.
It's possible take part in a selection of PADI courses aboard Andaman Tritan as well as bring along non-diving guests who just want to snorkel and enjoy the views. Nitrox is available for those who are certified.
Genuine MV Andaman Tritan Reviews
Read real reviews from people who have dived with MV Andaman Tritan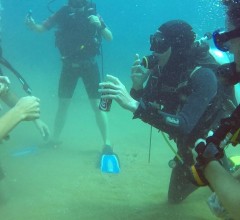 Crooty
Divers Nationality: Swiss
Dive date: 21 February 2018
9

/

10
We were a little surprised at first by the divemasters being all Russian. But they turned out very friendly and professional. Slava never hesitated to give me some of his air to prolong the dive a little, as I was usually to one to run out first.
The boat crew was extremely friendly and helpful as well, and food was simply amazing.
...read more