Please wait
Please wait loading cabin/trip info
MV Manta Queen 8 Overview
Read all MV Manta Queen 8 reviews
Type: Liveaboard
Departs from: Phuket.
No. of guests: 24
Prices from:
21,000
18,500
THB
per diver
Manta Queen 8 is the newest addition to the Manta Queen diving liveaboard fleet. There are three types of cabin to choose from, most have a private bathroom and all are air-conditioned. The best-value cabins have 2 bunk beds, but still offer storage space & privacy. These are ideal for divers on a budget. For more privacy but still at an unbeatable price, Manta Queen 8 has twin & double cabins that have private en-suite bathrooms.
There are several communal areas where guests can relax in groups, pairs or alone. These include the sundeck and the large dining area. There is plenty of space even for a full boat. The delicious food is plentiful, and many non-alcoholic drinks are for free. Soft drinks and beer is available at reasonable prices.
Each trip departs in the evening and the diving starts early the following morning. In recent seasons, MQ8 sailed to the Similan Islands, but from 2022 it's offering South Andaman routes, including Koh Haa, Hin Daeng & Koh Lipe. Please note that a few other websites might not be updated about the length of the trips or the itineraries. The boat sails from Phuket for 4D/4N to dive areas known as South Andaman.
The trips are unbeatable value for divers who want to enjoy the maximum dives & luxury for the minimum money spent. 10 of the 12 cabins have en suite bathrooms & windows, and the boat has an air-conditioned lounge/saloon. The dining areas and dive platform are spacious & well designed, meaning that everyone feels safe & comfortable at all times. There is also free Wi-Fi, when in range.
The newest & most-luxurious addition to the Manta Queen liveaboard fleet, MQ8 is often fully booked. This is mainly due to the great value. In addition to good-value PADI courses, Nitrox, and delicious food, the whole vibe on board is relaxing & fun. Trips depart from Chalong Pier, Phuket in the evening after you have been picked up from your hotel or Phuket airport.
Genuine MV Manta Queen 8 Reviews
Read real reviews from people who have dived with MV Manta Queen 8
erskine
Divers Nationality: Hong Kongese
Dive date: 22 February 2023
10

/

10
Well maintained dive boat with experience dive guide, many awesome dive site, luckiest, saw the leoshark 😍😍, 4 meal per day cooked by the great chef, recommend to every diver who like liveaboard.
John P
Divers Nationality: Australian
Dive date: 20 February 2020
10

/

10
My first liveaboard boat trip. The locations, the boat and boat boys, the dive guides, the cooks and the food, and my fellow divers, all fantastic!
Claris
Divers Nationality: Malaysian
Dive date: 16 November 2019
7

/

10
The trip was ok as bad diving due to bad weather and rough sea condition. And I didn't get to enjoy going to island hopping in between the dives. I saw many fb posting, divers get to rest and enjoy the beaches at the island near the dive site in betw
een dive. It would be nice if i got the chance to go after many days staying on the boat. Perhaps, these the areas you should improve.
...read more
Ben
Divers Nationality: German
Dive date: 25 November 2018
9

/

10
Great trip, awesome dive tram and boat crew and amazing dive sites ????????
Anonymous
Divers Nationality: Hong Kongese
Dive date: 26 October 2018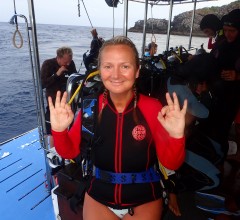 Pinkie
Divers Nationality: British
Dive date: 17 March 2018
10

/

10
Brilliant trip, Mark, Matey, Number 1 Kiwi Brendan, Yan, Lucy, Daniel were truly one of the best Dive Teams we've had the pleasure of diving with. Food was varied and very tasty and the Boat Crew could not do enough to help us! would definitely recom
mend...
...read more