Please wait
Please wait loading cabin/trip info
MV Manta Queen 8 Overview
Read all MV Manta Queen 8 reviews
Type: Liveaboard
Departs from: Krabi Marina
No. of guests: 24
Prices from:
32,000
THB
per diver
Manta Queen 8 is the newest addition to the Manta Queen diving liveaboard fleet. There are three types of cabin to choose from, most have a private bathroom and all are air-conditioned. The best-value cabins have 2 bunk beds, but still offer storage space & privacy. These are ideal for divers on a budget. For more privacy but still at an affordable price, Manta Queen 8 has twin & double cabins that have private en-suite bathrooms.
There are several communal areas where guests can relax in groups, pairs or alone. These include the sundeck and the large dining area. There is plenty of space even when the boat is full. The delicious food is plentiful, and soft drinks/sodas are for free. If you want to drink beer, the team allow you to bring your own on board.
Each trip departs in the evening and the diving starts early the following morning. In past seasons, MQ8 sailed to the Similan Islands, but from 2022 it's offering South Andaman routes, including Koh Haa, Hin Daeng & Koh Lipe. Please note that a few other websites might not be updated about the length of the trips or the itineraries. The boat sails from Krabi for 5D/5N to dive areas known as South Andaman. These include Koh Haa, Hin Daeng/Muang, Koh Phi Phi, Phuket and Koh Lipe.
The trips are unbeatable value for divers who want to enjoy the maximum dives & luxury for the minimum money spent. 10 of the 12 cabins have en suite bathrooms & windows, and the boat has an air-conditioned lounge/saloon. The dining areas and dive platform are spacious & well designed, meaning that everyone feels safe & comfortable at all times. There is also free Wi-Fi, when in range.
The newest & most-luxurious addition to the Manta Queen liveaboard fleet, MQ8 is often fully booked. This is mainly due to the great value. In addition to good-value PADI courses, Nitrox, and delicious food, the whole vibe on board is relaxing & fun. Trips depart from Krabi Marina in the evening after you have been picked up from your hotel or Phuket airport.
MV Manta Queen 8 Facilities, Layout & Specifications
MV Manta Queen 8 Facilities
Nitrox
En Suite Available
Air Con
Dinghy
Courses Available
Free Pickup
Suitable For Children
Wifi
Lounge
Av Entertainment
Vegetarian Food Available
Double Beds Available
Sundeck
Shaded Sundeck
Available To Charter
Beach Transfers
Rinse Tanks
MV Manta Queen 8 Layout
MV Manta Queen 8 Specifications
Type:
Wooden monohull.
Length:
27 Metres.
Width:
7.0 Metres.
Engines:
2 x Cummins 315 hp 10 cylinder.
Generators:
2 x 50 KW, 1 x 20 KW.
Crusining speed:
9 - 10 Knots.
Instrumentation:
PS Sat. Navigation, Sonar, Compass.
Safety:
VHF/FM Mobile Marine, Emergency 02, Liferaft, Lifejakets.
MV Manta Queen 8 Courses
A wide range of PADI diving courses is available on MQ8. These include Nitrox, Advanced & some speciality courses.
In most cases, the course is completed all on the boat during the cruise. But if you can book in advance you can do eLearning.
Contact us for more information about courses on MV Manta Queen 8
Although it's normally ok to decide on your PADI diving course when you arrive, it's better to book it in advance. All we ask for is a small deposit to confirm the course.
MV Manta Queen 8 Itinerary
Starting from October 2023, MQ8 will sail from Krabi Marina, not from Phuket or Satun.
Manta Queen 8 runs 5D/5N trips to Koh Lipe, Koh Haa, Hin Daeng/Muang, Koh Phi Phi and Phuket.
Do not be fooled by other (out-of-date) websites which show different trips. Also, any websites that show 6D/5N are including a few hours in the evning of your first day as a whole day.
Click below for detailed itinerary.
The itineraries below are the most-common for each trip, but these can sometimes be changed for a number of reasons. Small changes are made due to weather & sea conditions, special marine life sightings, overcrowded dive sites, local-authorities' instructions, and the needs & requests of the paying guests. The safety & comfort of all guests is most important at all times.
Click on an itinerary below for detailed information
MV Manta Queen 8 Transfer Details
Manta Queen 8 guests are collected free of charge from hotels around the north of Phuket, or from Phuket airport. If you're staying in southern Phuket or Khao Lak, there is no free transfer, but you can join a free transfer at Phuket Airport.
The transfers are at set times in the early afternoon of departure day.
If you're staying in Krabi, then please meet at Krabi Marina at 5pm on the day of departure.
---
For customers who would like a private taxi please see below for details.
(Click below for a rough guide to the rates you can expect to pay 'per vehicle,' not 'per person'.)
MV Manta Queen 8 Schedule & Prices
Do you have a large group and want to charter the whole boat?
click below to find out more
Included In The Price
---
Transfers to & from the airport
Transfers to and from local hotels
Meals
Snacks
Tea / coffee
Drinking water
Soft drinks
VAT
Night diving torch
Weights & weightbelts
Standard tanks
Dive master services
Mask and Snorkel
Full-foot fins
Towels
Soap & Shampoo
Luggage storage
Not Included In The Price
---
Dive equipment
National park fees
Dive computer
Alcoholic drinks
Dive insurance
Larger tanks
Nitrox
Tips / Gratuities
View more available months
7 Reasons to Book with us:
Best-price guarantee, AND get FREE gifts.
We don't ask for any payment or your

card details

until you are ready to

confirm

your booking.
For safety reasons, it's impossible to

complete

a

booking instantly online

, as some other websites claim to offer.

We always check first

as each boat has a different criteria regarding diver details &

experience

.
We offer each boat's booking & payment policy (below). Some other websites have standardised terms, asking for full payment but many boats' payment terms are a 20-30% deposit, and the balance paid on arrival.
Our Thailand-based staff are experts about logistics, the

dive sites

& all the

boats

. Take a look at the reviews on

our site

&

tripadvisor

.
Our team are always online to answer your questions. We always respond the same day , usually within a

few minutes



Customer service is everything!

For example, if a trip is cancelled, we will ensure you can choose between an

alternative

similar trip or a

full & unconditional refund

.
MV Manta Queen 8: Booking Procedure / Terms & Conditions:
The booking process for MV Manta Queen is very simple & convenient. Firstly, ask us to reserve a space in the cabin of your on the date/trip that you would like to join. We are happy to do this for free, and without any commitment from you. When you are ready to confirm your booking, we ask for 30% of the cruise price as a deposit. This payment is most-commonly made via PayPal, (Transfer)Wise or direct bank transfer in a wide choice of currencies, without fees. You don't need a Paypal account, although PayPal normally encourage you to open one. The PayPal invoice can be sent to any email address and payment can be made by anyone.
Nowadays, most of our guests choose to pay through adirect domestic bank transfer, which gives the very best exchange rate and no fees. This is possible because we have bank accounts in USD, EUR, GBP, AUD, NZD & THB.
The 70% balance and national park fees are due 60 days before your trip's departure date. Transfers and any equipment rental and/or courses can be paid when you arrive.
Cancellation policy:
Cancellation fees depend on the time and reason for cancelling. Please contact us for details. The management of MV Manta Queen are both considerate & flexible whenever possible regarding customer cancellations. Covid-19 has also caused everyone to be more flexible.
The official cancellation policy is as follows:
60+ days before departure = refund of money paid, minus any bank fees incurred doing so.
30-59 days before departure = refund of 70% trip balance, and the 30% deposit is forfeit to Manta Queen, but in some cases we are able to refund this to you. If the national park ticket has not been purchased yet, we can also refund the fee.
1-29 days before departure = loss of all monies but in some cases cancellations made 7-29 days before departure can result in a partial refund. But 30% deposit can be used as credit for any other trip booked through us within 1 calendar year.
Most travel insurance policies can protect you from unforeseen cancellation penalties.
Genuine MV Manta Queen 8 Reviews
Read real reviews from people who have dived with MV Manta Queen 8
erskine
Divers Nationality: Hong Kongese
Dive date: 22 February 2023
10

/

10
Well maintained dive boat with experience dive guide, many awesome dive site, luckiest, saw the leoshark ??, 4 meal per day cooked by the great chef, recommend to every diver who like liveaboard.
John P
Divers Nationality: Australian
Dive date: 20 February 2020
10

/

10
My first liveaboard boat trip. The locations, the boat and boat boys, the dive guides, the cooks and the food, and my fellow divers, all fantastic!
Claris
Divers Nationality: Malaysian
Dive date: 16 November 2019
7

/

10
The trip was ok as bad diving due to bad weather and rough sea condition. And I didn't get to enjoy going to island hopping in between the dives. I saw many fb posting, divers get to rest and enjoy the beaches at the island near the dive site in betw
een dive. It would be nice if i got the chance to go after many days staying on the boat. Perhaps, these the areas you should improve.
...read more
Ben
Divers Nationality: German
Dive date: 25 November 2018
9

/

10
Great trip, awesome dive tram and boat crew and amazing dive sites ????????
Anonymous
Divers Nationality: Hong Kongese
Dive date: 26 October 2018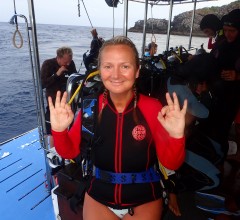 Pinkie
Divers Nationality: British
Dive date: 17 March 2018
10

/

10
Brilliant trip, Mark, Matey, Number 1 Kiwi Brendan, Yan, Lucy, Daniel were truly one of the best Dive Teams we've had the pleasure of diving with. Food was varied and very tasty and the Boat Crew could not do enough to help us! would definitely recom
mend...
...read more