Please wait
Please wait loading cabin/trip info
Sorry Blue Dolphin we don't have trips for this boat at the moment.
These are some alternatives
---
Blue Dolphin Overview
Read all Blue Dolphin reviews
Type: Day trip
Departs from: Khao Lak.
No. of guests: 17
Prices from:
N/A
THB
per diver
Powered by three Honda 225hp 4-stroke motors, the journey is smooth, fast, quiet and without odours or fumes. The top speed is in excess of 40 knots, but safety is of prime importance, and speed is therefore governed by the conditions on the day. There's plenty of shelter from the sun or any rain, as well as a comfortable outdoor seating area for those who want to top up their tan or look out for jumping dolphins on the way out to the dive sites or back.
Each day of the week offers something different on Blue Dolphin, and it visits the world-famous Richelieu Rock three times a week. Those who want to dive on consecutive days will be able to experience various dive sites, instead of the same thing again. The Similan Islands are fantastic. There are easy and challenging dive sites and snorkel spots in crystal-clear waters, many near pristine beaches with healthy life right up to the surface. Koh Bon & Koh Tachai are a little more challenging, and offer the best chances of Manta Ray sightings. Richelieu Rock is Thailand's premier dive site. There's nothing to see at or very near the surface, but underneath this is the best dive site in Thailand, and chosen among the top ten in the world by Jacques Cousteau.
Finally, Blue Dolphin is recommended for guests who want to get back to land as soon as possible to enjoy the rest of the afternon and evening. Its speedy journeys ensure that almost no other day trip can come back to Khao Lak before Blue Dolphin!
What makes Blue Dolphin trips so special begins before your departure day. Excellent pre-trip organisation by a professional and experienced team means that the day will run smoothly and be a lot of fun. Payment and equipment is dealt with at least the day before, so you can wake up and go diving.
Guests are picked up from Khao Lak hotels and resorts from 7.30am - 8.45am, and the boat departs around 9.00am, after fruits, snacks, coffee and a quick briefing and final check. Around an hour later divers are jumping in the sea!
Blue Dolphin guests need to stay in Khao Lak (not Phuket) the night before.
New regulations in October 2018 mean that we require your passport details, and this must be at least 72 hours before the trip.
Please note that for Richelieu Rock trips you need to have dived within 6 months.
Great organisation, a fast & smooth ride, and the best choice of dive sites all make up for an awesome day on this wonderful Similan diving day trip boat.
Blue Dolphin Facilities, Layout & Specifications
Blue Dolphin Facilities
Nitrox
Courses Available
Free Pickup
Vegetarian Food Available
Sundeck
Shaded Sundeck
Available To Charter
Breakfast And Lunch
Quick Journey Times
Beach Transfers
Blue Dolphin Courses
Taking part in a diving course at the Similan Islands is the best place to advance your diving level, or even learn to dive in Thailand. Blue Dolphin is a clean, fast, stable and new speedboat which can transport divers and snorkellers out to Thailand's best diving sites. Where better to take part in a PADI or SSI Advanced or Nitrox course?
Contact us for more information about courses on Blue Dolphin
Prices are inclusive of materials, equipment, National Marine Park fees, local hotel pick up and food & drinks throughout the day.
*Open Water diving students need to complete what is known as 'confined water' sessions before diving in the open sea. These sessions take place in a pool, or sometimes on a calm & shallow beach. The confined sessions are to learn and practice basic diving skills such as maintaining buoyancy and understanding commands, but without distractions of waves, depth or water currents. At any time, the students can stand up out of the water and talk to their instructor. These confined water sessions are part of both PADI & SSI courses and give the divers more confidence to enjoy longer and safer dives in the sea.
** Some dive sites such as Richelieu Rock are deep submerged pinnacles, and therefore unsuitable for novice or new divers. Not only are the depths of the reef deeper than new divers can reach, there are usually currents which increase air consumption and shorten dives.
There is almost no difference in what is taught, learned or practiced when comparing PADI and SSI diving courses. The difference in price is due to PADI giving every student a diving manual and sending the (PIC) Personal Identification Card direct from their headquarters. Both PADI & SSI certified divers are free to enjoy diving around the world in each other's dive centres, so there is no concern about being turned away by an SSI or PADI centre for having the wrong brand of diving license.
Blue Dolphin Itinerary
Blue Dolphin sails to different dive sites throughout the week, ensuring that divers can join repetitive trips and experience something new.
Mondays : Koh Bon & Koh Tachai
Tuesdays : Richelieu Rock
Wednesdays : Similan Islands
Thursdays : Richelieu Rock
Fridays : Koh Bon
Saturdays : Richelieu Rock
Sundays : Similan Islands
Guests are picked up from local hotels and resorts in the morning and driven to a private pier in Baan Nam Khem, north of central Khao Lak. Pickups start at 7.30am for southernmost hotels, and the boat departs at 9.00am.
There are two dives each day (10.00am & 1.00pm), with a relaxing lunchtime surface interval.
Blue Dolphin departs from the dive sites immediately after the second dive and is usually back at Baan Nam Khem Pier around 3.30pm, with guests back in the hotel rooms just before or soon after 4.00pm.
Click below for itineraries to match your chosen trips.
Blue Dolphin Transfer Details
Local transfers are free of charge on Blue Dolphin trips. This includes a wider area than many other dive centres and day trip boats. Blue Dolphin departs from Baan Nam Khem, which is to the north of Khao Lak. Most other boats depart from Tab Lamu Pier, to the south. Therefore guests north of Khao Lak who dive on Blue Dolphin get more time in bed in the morning, and return first after the trip. Those staying in southern Khao Lak resorts can still enjoy free transfers, but spend more time in the vehicle.
---
For customers who would like a private taxi please see below for details.
(Click below for a rough guide to the rates you can expect to pay 'per vehicle,' not 'per person'.)
Blue Dolphin Schedule & Prices
Diver Prices Overview 2023 / 2024
Destinations
Duration
Per diver
Boat Schedule and prices coming soon
Do you have a large group and want to charter the whole boat?
click below to find out more
Included In The Price
---
Transfers to and from local hotels
Meals
Tea / coffee
Drinking water
Soft drinks
Weights & weightbelts
Standard tanks
Dive master services
Not Included In The Price
---
Transfers to & from the airport
Dive equipment
National park fees
Dive computer
Dive insurance
Larger tanks
Nitrox
Tips / Gratuities
View more available months
Booking Procedure / Terms & Conditions:
Booking Blue Dolphin trips is very simple. Just email or call us and ask us about availability and to hold a space (or spaces) for you. We can send a PayPal invoice for full payment and discuss rental equipment sizes. It's as simple as that.
Cancellation terms are very reasonable, and the amount of refund or forfeit depends on the time of cancellation.
Genuine Blue Dolphin Reviews
Read real reviews from people who have dived with Blue Dolphin
Dimitra Miliordou
Divers Nationality: Greek
Dive date: 27 February 2020
7

/

10
Our experience with Blue Dolphin was nice, however the boat was pretty small for 15 divers in total. The equipment had already been set up in advance, as it would be a bit chaotic to do that on the spot in such a small space. We were quite restricted
movement wise and had to sit in our designated seats between dives. While we were immobile (as the dive site was the same for both dives), it got a bit uncomfortable due to the waves and it was easier to get seasick or at least get a bit queasy. Having said that, the staff were very friendly, well-prepared, accomodating and organized. Compared to Sundancer I would say that Blue Dolphin was better organized, the equipment was in a better condition, but space wise it wasn't nearly as comfortable as the Sundancer.
...read more
Dive date: 04 January 2020
5

/

10
Trip to Richelieu Rock. For me the boat is not comfortable, too little room for each guest, no place for material. Instructor and boat crew were fine, but all together quite a stressful trip. We didn't enjoy it so much.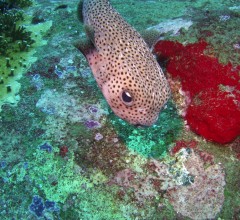 Christine
Divers Nationality: American
Dive date: 08 December 2019
10

/

10
Communication was extremely easy. All pre-dive forms and information was completed online, including type/size of rental gear needed if any. There was no need to go to dive shop the day before. Our party of two was picked up at our hotel each day
and after diving, we're safely transported back. The boat captain, crew and dive masters were safety minded, thus one day Mother Nature didn't cooperate (seas were rough) so we had to go to an alternate dive site. Dive groups were small, no more than four to five people and we were grouped by experience level and type of diving done. We have been diving for over 30 years - Ben our very experienced dive master gave good briefings and safety reminders. Ben was also extremely familiar with the sea life indigenous to that area as well as other parts of the world. A pleasure to dive with Ben and of course Blue Dolphin!
...read more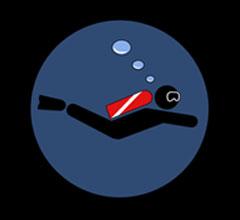 Kevin "Doc" Cavanaugh
Divers Nationality: American
Dive date: 30 March 2019
10

/

10
If you are diving from Khao Lak, Thailand I have only five words to say about Blue Dolphin- don't hesitate, just book it.
RH
Divers Nationality: German
Dive date: 02 January 2019
9

/

10
Bad weather bud still well organized and recommended.
Lance
Divers Nationality: American
Dive date: 16 March 2018
10

/

10
Awesome time. Neal was great. We're not super experienced and Neal made sure that we felt comfortable. Overall had a great experience. Plus free Ritz.
Dive date: 07 December 2017
10

/

10
Thank you! I had a great experience diving with this crew.
10

/

10
Amazing trip, excellent and professional service , thanks Jamie