Please wait
Please wait loading cabin/trip info
Similan Quest Overview
Read all Similan Quest reviews
Type: Liveaboard
Departs from: Khao Lak.
No. of guests: 18
Prices from:
11,500
THB
per diver
Similan Quest os among the best-value Similan Islands diving liveaboards. For the past two seasons the boat was offering scheduled 4D/4N trips, but now for 2022-2023 Similan Quest has returned to flexible trips. That means the boat stays out at sea, and guests join by speedboat in the morning on the day of their choice. The boat is excellent value, focussing on safe & enjoyable diving with experienced staff & crew.
There are two cabin types on Similan Quest. These are four double-bed cabins & five twin cabins, and all are air conditioned. The double cabins are on the boat's upper deck. In addition to sea-view windows, they have doors which open out onto the deck. This gives more privacy and a wonderful welcome every morning to the Similan Islands. Also on the boat's upper deck is the large dining area. Here, you can enjoy delicious food that is served buffet style. There are plenty of tables and seating for everyone on board, including guests who are just diving for a day trip.
On Similan Quest's main deck there are the twin cabins, which have a side-by-side configuration (not bunk) and a partition that gives each guest extra privacy. This deck is also home to the kitchen, a storage area and three communal bathrooms. At the rear of the main deck is the dive platform. The dive platform has plenty of space for everyone to store & put on or take off their gear, and to safely walk to the rear of the boat.
Similan Quest is 25 metres long and 5.3 metres wide, powered by two 300hp Hino engines. She's easily safe, stable and comfortable enough to offer wonderful diving cruises to some of Thailand's best dive sites. In most cases, divers jump off the back of the boat and return to its ladder at the end of each dive. If you surface further away, the motorized dinghy can collect you. The dinghy is also used to take guests to the wonderful beaches of Similan Islands #8 & #4. If diving in a shallow area, the speedboat can also be used. Unlike most other Similan liveaboards, guests on Similan Quest can usually choose between a night dive and a sunset dive.
Genuine Similan Quest Reviews
Read real reviews from people who have dived with Similan Quest
Tryllehest
Divers Nationality: Danish
Dive date: 27 January 2020
6

/

10
We were on a 4 day/3 nights trip with Similan Quest. Everything regarding the booking was smooth and easy, and our questions were answered quickly. The boat is well equipped and comfortable. It's not a luxury boat, but we knew that. Food onboard wa
s good and standard quality. The crew were friendly and there was a nice feeling onboard. Our cabin was small, but we had what we needed. Shared toilets and baths was clean and handy. The only reason we are not more thrilled are two things: We still think the price was a bit high compared to liveaboard elsewhere, but that's apparently the level at Similan Islands. The other was a bit of dissapointment regarding the diving experience. The instructor did what he could, but we had expected the dive sites to be more spectacular to be honest. But maybe we were just a bit unlucky?
...read more
Juan Andres Morales
Divers Nationality: Mexican
Dive date: 26 December 2019
10

/

10
Great experience and professional guide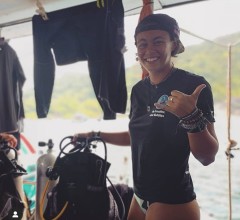 Rianna
Divers Nationality: British
Dive date: 19 April 2019
8

/

10
Great trip! We spent two days and one night on the boat and wished we could've stayed for longer!! Easy booking process with Jamie (make sure you clarify total price beforehand as those listed do not always include rental and park fees) and Peter
was great kitting us out the night before. The boat crew run a slick operation, the food is delicious, and all the dive crew are fantastic. The boat can get a little busy during the day with day divers but everyone is super helpful and you typically only dive with your buddy and a couple of others in a small group. Night dive was also amazing!
...read more
Jonas
Divers Nationality: Danish
Dive date: 21 January 2019
9

/

10
Great experience! High grades to staff, diving and food!
Isabelle
Divers Nationality: Belgian
Dive date: 17 January 2019
9

/

10
Jamie made booking this trip really simple. He was available at all times and answered all questions quickly.The trip on Similan Quest was great and good value. If I had one suggestion it would be to make a little more effort on environmetal gestur
es, such as recycling, using shampoo/soaps that are more eco friendly etc..
...read more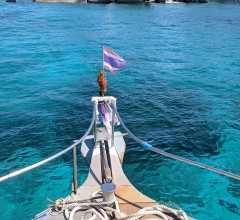 Chris
Divers Nationality: Australian
Dive date: 08 January 2019
9

/

10
Fantastic experience. The diving at similan was excellent, great visibility and a wide variety of sea life. The similan quest was very enjoyable to stay aboard, thanks to the very friendly and helpful boat staff and dive masters. Food was plentiful
and very delicious !. A very well run boat
...read more
Cd1993
Divers Nationality: British
Dive date: 07 January 2019
9

/

10
Awesome. First class instructors/DMTs great diving as well and the crew on board were fantastic. Special commendation to the chefs very very good food
Manuel Coimbra
Divers Nationality: Portuguese
Dive date: 07 January 2019
4

/

10
I have to say that everything until the diving day was phenomenal (support from Jamie from Just Bubbles no Troubles, attention in gear(equipment selection from Peter) including the transfer and organisation at the peer. On the boat itself, it was ve
ry confusing (each diver took whatever gear was available), my diving group was too big (7 divers for 2 dive masters) and the descend briefing was unclear. As such I missed the first of the 2 dives of the day. The second dive was ok
...read more
Mark
Divers Nationality: Australian
Dive date: 02 December 2018
7

/

10
Good trip. Good food.overall good. Just watch your pressure gauge when down.
Paja
Divers Nationality: Czech
Dive date: 14 November 2018
10

/

10
Hello, stay on Similan Quest was perfect! I spent there 3 days / 2 nights. Almost each dives were organized on different places. Basic but nice and clear acommodation, very helpful staff and amazing food. Recommended! Pavla