Please wait
Please wait loading cabin/trip info
Sorry MV Nemo 1 we don't have trips for this boat at the moment.
These are some alternatives
---
MV Nemo 1 Overview
Read all MV Nemo 1 reviews
Type: Liveaboard
Departs from: Khao Lak.
No. of guests: 20
Prices from:
N/A
THB
per diver
MV Nemo 1 is a brand-new boat, launched in October 2017. Nemo 1 offers our guests the best of everything. They can enjoy the comfort of a Khao Lak hotel, a quick journey out to the dive sites, then the dive boat is large, stable and comfortable. Nemo guests need to stay in Khao Lak (not Phuket) the night before departure.
Nemo 1 is owned and run by an extremely-experienced & professional Swiss team, who know what international divers want from a liveaboard trip. The brand-new boat has a steel-hull and is 26m long. The maximum number of diving guests per night is 20, and they all sleep in air-conditioned cabins. The boat has 4 double-bed and 3 quad-bunk cabins, which also have sea-view windows. Communal areas on the boat include a large covered outdoor dining area, where most guests spend non-diving time and meals are served. There is also an air-conditioned lounge saloon, where courses can be taught, and guests can chill out. The lounge has audio-video entertainment and sea-view windows. However, divers who come to Thailand and go diving at the best dive sites normally want to enjoy the views, sea breeze, sub-tropical weather and star-filled night skies. The diving platform is large and low, so that everyone has space to move around safely and comfortably. As usual, there is a sundeck on the top of the boat for sunbathing.
For ultimate flexibility and convenience, and at competitive prices, there is very little to beat MV Nemo 1 for diving at The Similan Islands, Koh Tachai & Koh Bon. While most other Similan liveaboard trips are a fixed schedule, on Nemo 1 you can choose when and for how long you join. This is made possible by the ship staying out at sea, like a 'floating hotel' and guests are taken out on any morning of the week, then return to Khao Lak after 2D/1N, 3D/2N or as long as they like.
Nemo 1 does not stay in one place all the time. In fact, on most days, there are 4 different dive sites visited. Depending on the day of the week, Nemo 1 cruises around the northern half of the Similan Islands, Koh Bon or Koh Tachai. On Mondays the boat is at Koh Bon, often the best place in Thailand to see Manta Rays. Tuesdays is for Koh Tachai, again a popular spot for Manta Rays and sometimes something even bigger. The rest of the week is spent at the best dive sites of the Similans.
There are meals served buffet-style throughout the day. These are mainly a mix of Western and local cuisine, but not too spicy. Soft drinks and beer are available at very reasonable rates, and there are always fruits, snacks, tea, coffee & drinking water available for free.
Possibly the two best dives of each day are the first and last. With so few divers sleeping on board, the groups are normally small and personal for dive #1 at 7.00am before the daytrip speedboats fill up dive sites. And after the speedboats have left, the sunset dive is guaranteed to be great, and is followed by an evening meal and maybe a few drinks while enjoying the tranquility and mosquito-free sea breeze.
Overnight divers on Nemo are required to dive with a computer. If you don't have your own the dive centre will supply one free of charge. The rental fee is normally 300 THB / day. But as a special offer we can supply them for free.
Also, Nemo guests need to stay in Khao Lak (not Phuket) the night before departure because Phuket is too far away to arrive in time for a morning departure.
MV Nemo 1 Facilities, Layout & Specifications
MV Nemo 1 Facilities
Nitrox
Air Con
Dinghy
Courses Available
Free Pickup
Speedboat Transfers
Suitable For Children
Lounge
Av Entertainment
Vegetarian Food Available
Double Beds Available
Sundeck
Shaded Sundeck
Available To Charter
Beach Transfers
MV Nemo 1 Layout

Sundeck Deck

1: Sundeck

Dining Deck

1: Dining deck
2: Open saloon
3: Saloon
4: Staff cabin
5: Captain cabin

Dive Deck

1: Dive platform
2: Dive deck
3: Kitchen
4: Toilet / shower
5: Spare equipment / staff cabin
6: 4 Bed bunk cabin
7: Double bed cabin

Lower Deck

1: Engine room
2: Storeroom
MV Nemo 1 Specifications
Length:
24.5 metres
Width:
5.5 metres
MV Nemo 1 Courses
MV Nemo 1 is a great boat on which to take part in a diving course. The Advanced Open Water (AOW) course is by far the most popular, as it allows you to become fully immersed in the divers' environment. It involves very little theory, but lots of great diving. Nitrox & Adventure Deep are other courses which are popular on Similan liveaboard trips.
Please contact us for details and the most competitive quote.
Courses
Courses
Prices

PADI:

Open Water

(4 Dives)

7,900

THB

PADI:

Advanced Open Water

(5 Dives)

8,600

THB
MV Nemo 1 Itinerary
Nemo guests are collected from their Khao Lak hotels in the morning* and taken to Tab Lamu Pier. Departure on the speedboat is at 8.00am.
Divers who stay for 2D1N get 6 dives (3 per day). For longer trips, there are 3 dives on the first and final days, and 4 dives on all other days.
To be fair to all other guests joining Nemo trips, the driver cannot wait for guests who are late for their pickup. The dive centre owners pride themselves on punctuality & professionalism. They are only able to provide this when guests abide by the pickup times. Guests who are not on time will be considered a 'no show.'
When selecting from the list of itineraries below, please note the days of he week of your planned trip. Then you can view the dive sites that the boat expects to visit.
Beach visits are not possible at Koh Bon (no beach) or Koh Tachai (closed to the public).
On days at the Similan Islands, beach visits are sometimes possible on most days, but we never promise. This is because so many factors affect the ability and decision whether or not to visit the beach. These factors include the exact location of the boat and its next dive site, how crowded the beach may be, the time of day, and if the the boat needs to be somewhere else to fill up with fresh water.
MV Nemo 1 Transfer Details
Nemo guests are required to be waiting on time for morning pick ups.
To be fair to the other guests already in the vehicle or waiting to be picked up next,. the minivan does not wait for late guests.
---
For customers who would like a private taxi please see below for details.
(Click below for a rough guide to the rates you can expect to pay 'per vehicle,' not 'per person'.)
MV Nemo 1 Schedule & Prices
Do you have a large group and want to charter the whole boat?
click below to find out more
Included In The Price
---
Transfers to and from local hotels
Meals
Snacks
Tea / coffee
Drinking water
VAT
Weights & weightbelts
Standard tanks
Dive master services
Towels
Soap & Shampoo
Luggage storage
Not Included In The Price
---
Transfers to & from the airport
Dive equipment
National park fees
Dive computer
Soft drinks
Alcoholic drinks
Dive insurance
Larger tanks
Nitrox
Mask and Snorkel
Open-heel fins
Full-foot fins
Tips / Gratuities
View more available months
7 Reasons to Book with us:
Best-price guarantee, AND get FREE gifts.
We don't ask for any payment or your

card details

until you are ready to

confirm

your booking.
For safety reasons, it's impossible to

complete

a

booking instantly online

, as some other websites claim to offer.

We always check first

as each boat has a different criteria regarding diver details &

experience

.
We offer each boat's booking & payment policy (below). Some other websites have standardised terms, asking for full payment but many boats' payment terms are a 20-30% deposit, and the balance paid on arrival.
Our Thailand-based staff are experts about logistics, the

dive sites

& all the

boats

. Take a look at the reviews on

our site

&

tripadvisor

.
Our team are always online to answer your questions. We always respond the same day , usually within a

few minutes



Customer service is everything!

For example, if a trip is cancelled, we will ensure you can choose between an

alternative

similar trip or a

full & unconditional refund

.
MV Nemo 1: Booking Procedure / Terms & Conditions:
The booking process for MV Nemo 1 is very simple & convenient. Firstly, ask us to reserve a space in the cabin of your on the date/trip that you would like to join. We are happy to do this for free, and without any commitment from you. When you are ready to confirm, we ask for full payment. This payment is most-commonly made via PayPal or TransferWise, and there are no fees at all for you, the customer. You don't even need a Paypal account, although PayPal do encourage you to open one. The PayPal invoice can be sent to any email address and payment can be made by anyone.
Cancellation policy:
Cancellation fees depend on the time and reason for cancelling. Please contact us for details. The management of Nemo are both considerate & flexible whenever possible regarding customer cancellations.
Most travel insurance policies can protect you from unforeseen cancellation penalties.
Genuine MV Nemo 1 Reviews
Read real reviews from people who have dived with MV Nemo 1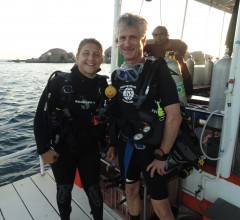 Anonymous
Divers Nationality: Swiss
Dive date: 12 March 2020
10

/

10
My first liveaboard was a great experience. Good boat, comfortable cabin, caring staff and delicious food, everything as expected. All dives were good especially the last one. This last dive is now listed in the top 5 of all my dives! Two big lobst
ers, a giant stingray, a turtle, an octopus and then at the safety stop at this very last dive the visit of the baby whale shark felt like a cheesy ending of a cheap Hollywood movie.
...read more
Thorsten
Divers Nationality: German
Dive date: 21 February 2020
9

/

10
I had great experience diving with the Nemo Crew.I learned so much in 3 days,and i was blown away by the wonderful underwater world at the similan islands.I had only 8 dives before the trip and didn't know that much about diving,to be honest.Now i
feel really safe and comfortable with all equipment and processes.Thanks again to my instructor phoebe!i felt safe and everything was profressional,thai staff made sure everything was on point and ready to use,always making fun with their guests and kind of loosen the atmosphere a bit.We were served with at least 3 meals a day,all good and always enough for a second plate,plus snacks,fruits and water for free-also cool that they wanted you to take one bottle,empty it and refill it at the station saving plastic,thumbs up.There is only one "negative" thing,the generator runs all night ro make sure ac and power is available all the time,which made me not sleep that well,even with earplugs.But i was nearly the only one who had problems,so might be also that new situation sleeping on a boat.Thanks to conny for the warm welcome,whole diving crew and thai staff for the great times!
...read more
Ralfieb
Divers Nationality: German
Dive date: 18 February 2020
10

/

10
This was just a perfect trip! Nemo 1 ... and the Crew: Beyond words! Excellent Organisation, amazing staff, incredible dive spots ... truly wonderful . THANK YOU
Mark
Divers Nationality: British
Dive date: 15 February 2020
8

/

10
Nice boat but noise at night as the generators run all night. Good food and plenty of it. Good dive guides and very good diving. Some of the nicest corral gardens I have seen.
Jeff and Amanda
Divers Nationality: American
Dive date: 12 February 2020
10

/

10
We had the most amazing time on our 2 day/1 night stay on Nemo 1! The crew and staff were fantastic, making us feel very comfortable in and out of the water. The diving at the Similans was great, with lots of variation in dive sites and things to see
. Our guides had a great eye for spotting wildlife. We now highly recommend to our friends that will be in the area to go with Nemo!
...read more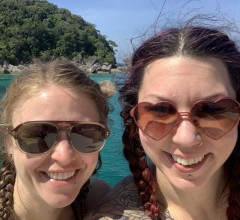 Nina
Divers Nationality: American
Dive date: 06 February 2020
10

/

10
We had a great experience scuba diving with Nemo 1! The diving staff was amazing (Phoebe was our instructor). She helped us spot all types of creatures. The visibility wasn't always the best but the dive sites were varied and beautiful regardless. We
saw octupuses, turtles, sharks and lots of beautiful sea life. The crew was super helpful getting us into and out of our gear. The food was fabulous with care to special dietary restrictions. This was my first experience on a live aboard and everything was spectacular! Can't wait to have another opportunity to return!!
...read more
Jacob
Divers Nationality: American
Dive date: 14 January 2020
10

/

10
Great group, a very professional and friendly operation. The food is good and the crew is fun to be around. The dive sites are excellent and the divemasters are knowledgable and friendly.
Mo
Divers Nationality: Canadian
Dive date: 04 January 2020
9

/

10
Boat is new and clean, good facilities. Nice and helpful staff. Nice dives, and small diving groups. Need to provide more food for breakfast.