Please wait
Please wait loading cabin/trip info
MV Camic Overview
Read all MV Camic reviews
Type: Liveaboard
Departs from: Khao Lak.
No. of guests: 14
Prices from:
25,400
THB
per diver
MV Camic is a very popular Similan Island liveaboard boat. For the past few seasons, it was used as a 'flexible boat' which guests are transferred to by speedboat in the mornings and stay as long as they like. But for 2019 onwards Camic will run regular scheduled cruises that depart in the evenings and everyone on board starts & finishes the trips together and at the same time. Camic starts most trips at The Similan Islands, before moving north to Koh Bon, Koh Tachai & Richelieu Rock. During the 'Green Season' when the Similan National Marine Park is closed, Camic offers trips to Koh Lipe, departing from Pak Bara and with transfers from Hat Yai airport.
MV Camic is among the most highly-regarded and popular scuba diving liveaboard diving boats which sails around the Similan Islands and the northern dive sites. There are two cabin options to choose from. These are double en suite & twin-bunk en suite. All are air-conditioned and clean. The boat's staff and crew are both experienced and professional, and the food is possibly the tastiest on any of the boats at the Similans, at any price. Camic's team includes some very experienced multi-lingual instructors, and we nearly always get very good feedback from our Camic guests. Now Camic runs scheduled (not flexible) trips that are 4D/5N to the Similans during high season.
Please note that some websites show the trips as 5D/4N to make you think you're getting a better deal, but this is incorrect and misleading. Do not trust websites that try to mislead you or are out of date. With Camic you get four full diving days and five nights in your cabin. You join in the evening, and leave in the morning.
In addition to great-value trips, including the free transfers and great food, MV Camic is among the least expensive liveaboard boats on which to take part in a PADI course, such as Advanced Open Water. Courses are taught by PADI instructors in a selection of languages.
MV Camic is a popular Similan liveaboard boat, on which groups of people can spend evenings chatting together while enjoying the views, the weather and each other's company. In the past, Camic has been criticised by some people for having too many day trip divers join, but the boat no longer runs that type of trip. That means that from October 2018, Camic guests & crew start and finish each Similan diving cruise together.
Genuine MV Camic Reviews
Read real reviews from people who have dived with MV Camic
Lindsey
Divers Nationality: American
Dive date: 11 March 2023
5

/

10
I've done 8 liveaboards all over the world at various price points (including the budget, bare-bones kind) and this boat was by far the most uncomfortable I've experienced. It was pretty dirty; I know that all boats have roaches, but I don't ex
pect to see so many. They were even in our beds. I also saw rats multiple times. It's difficult to rest between dives because the only seating provided on the Sun deck was a few very old mats. Resting in the cabins was difficult because the crew hangs out down there during the day and to say they are noisy is an understatement. The food was fine. I found the long, rambling stories that accompanied every dive briefing to be irritating and unnecessary, but realize that might just be me:) This was my second time in the Similans and the diving there is wonderful! Just try to find a better boat.
...read more
Robyn
Divers Nationality: American
Dive date: 11 March 2023
9

/

10
Jamie was so helpful and communicative while we planned our trip. Definitely recommend booking with him. The camic has a great staff of dive guides, including Dennis and Tik, who have been diving the Similans for over 20 years. They are very knowledg
eable, friendly, and really responsive to our needs when we expressed them. They are focused on making a great experience for their guests. The diving was great, weather permitting of course, and Dennis always focused on finding us the best sites considering the conditions. The crew were very helpful and friendly, the food was delicious and accommodating for us as vegetarians. The basic cabins are clean and AC is included. At times the diesel fumes seeped into our cabin but with the door open and AC running it was alright and we spent a lot of time on the sun deck which was lovely. Definitely recommend this boat for the small number of divers, the guides, the crew, and the food!!
...read more
PSU
Divers Nationality: German
Dive date: 01 March 2023
3

/

10
I was picked up on time and taken to the dive center. There I was able to pack my diving gear in my bag and put the suitcase down safely. With the diving equipment and my small backpack, with spare clothes, wash bag, camera medication, etc., I was br
ought onto the ship with my fellow passengers. There the cabins were distributed and then there was a briefing on the itinerary and the events on the ship. The cabins are small and there is little counter space and no storage space, but everything was clean. The wet room was adequate and clean (I'm very picky about that), but not enough storage space or coat hooks. The whole crew was always friendly and helpful. The food was varied and sufficient, unfortunately only lukewarm to cold at most. As an excuse you can name the size of the kitchen, there is not even a broom closet. But what is not possible was the vermin infestation. The crawling animals were just as represented in the booth as at the counter where the food was served as at the tables. The beetles were so cheeky that they walked onto your plate even though you were still eating. This is a condition that is unacceptable and should be stopped immediately. The diving groups were well divided and small. The dive guide was rather inattentive and has often lost me as a photographer, which was not a problem for me, thanks to my level of training. However, the briefing was rather a lot of talk about sea creatures that you "might" see and that the tour guide has over 16,000 dives, the actual information was often incomplete. The dive platform was small but we managed. All in all it was a nice liveaboard except for the terrible condition with the bugs. I cannot give the recommendation as long as the beetle problem has not been solved. No Troubles Just Bubbles team with Jamie did a good job. Thanks!
...read more
Agnes Toh & Team
Divers Nationality: Singaporean
Dive date: 09 February 2023
10

/

10
Reservation through Jamie (No Trouble Just bubbles) was exceptionally prompt and amazingly seamless. Well done , Jamie 👍🏻 The service rendered was impeccable , from the Dennis Karlsson and Tik , Captain & boat crews and all staff on MV Cami
c of Similan Seven Sea Club 🥳 Thanks so much for making the arrangement of the surprise birthday cake for my darling , Jamie & Dennis ❤️ Diving in Similan Islands was our first time for most of us. Though there was no manta and whale shark , we loved the dives at Richelieu Rock and the Boonsung Wreck.
...read more
PL
Divers Nationality: Singaporean
Dive date: 09 February 2023
8

/

10
You will never ... 1. Have a bad meal onboard as the crew ensures a constant supply of freshly cooked dishes 2. Have a bad dive briefing as the dive masters (Dennis / Tik) are safety-conscious (👍), thorough and super familiar with the dive sites
Franziska
Divers Nationality: German
Dive date: 10 January 2023
10

/

10
It was a great stay on the Camic. The crew and dive guides are very attentive and make an effort and are always up for a good time. Since it is a comparatively small boat, it was very easy to get in touch with the others. If I could, I would go out a
gain immediately. It was my first and certainly not the last LiveAboard!
...read more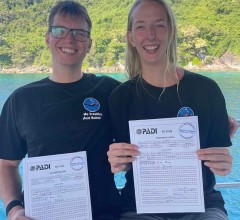 Sebastian
Divers Nationality: German
Dive date: 10 January 2023
10

/

10
Our trip with the mv Camic was fantastic. Jamie from notroublesjustbubbles did a great job in planning and was always available for questions about transportation to the boat and transportation back to the hotel. He was just as good at advising us on
whether to do an AOWD course. In the end we did the course and did not regret it. Dennis our instructor and guide taught us everything more than well. The atmosphere on the ship was great, great people, great crew, delicious food. With 12 divers and 3 guides on board it was just great. I would always recommend the MV Camic and a booking through No Troubles Just Bubbles.
...read more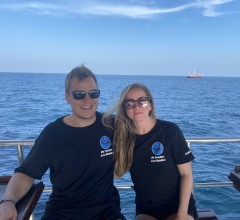 Hannah
Divers Nationality: British
Dive date: 12 December 2021
10

/

10
Amazing trip. Our first liveaboard so we wanted a small group. The Camic was perfect. All of the staff including the boat boys, kitchen staff and dive team were so friendly and wonderful to be around. They catered for my dietary requirement very well
. Our dive guide Toun was great and explained everything/ answered any questions we had.
...read more
Joe
Divers Nationality: British
Dive date: 12 December 2021
10

/

10
The trip was amazing. Great value for money. All the staff on the boat were extremely friendly and Jamie was a massive help with everything, he even helped us find dive watches the day before our trip.
Karin Raab
Divers Nationality: British
Dive date: 09 February 2019
10

/

10
Had the most wonderful 4 days aboard Camic - it was just fabulous. Denis was amazing , not only did he manage to get me through advanced , he laughed and encouraged us the whole time - the most delightful crew , always spot and helpful We had a gre
at group of fellow divers . It was an unforgettable trip. Loved it !!
...read more