Please wait
Please wait loading cabin/trip info
MV Camic Overview
Read all MV Camic reviews
Type: Liveaboard
Departs from: Khao Lak.
No. of guests: 14
Prices from:
25,400
THB
per diver
MV Camic is a very popular Similan Island liveaboard boat. For the past few seasons, it was used as a 'flexible boat' which guests are transferred to by speedboat in the mornings and stay as long as they like. But for 2019 onwards Camic will run regular scheduled cruises that depart in the evenings and everyone on board starts & finishes the trips together and at the same time. Camic starts most trips at The Similan Islands, before moving north to Koh Bon, Koh Tachai & Richelieu Rock. During the 'Green Season' when the Similan National Marine Park is closed, Camic offers trips to Koh Lipe, departing from Pak Bara and with transfers from Hat Yai airport.
MV Camic is among the most highly-regarded and popular scuba diving liveaboard diving boats which sails around the Similan Islands and the northern dive sites. There are two cabin options to choose from. These are double en suite & twin-bunk en suite. All are air-conditioned and clean. The boat's staff and crew are both experienced and professional, and the food is possibly the tastiest on any of the boats at the Similans, at any price. Camic's team includes some very experienced multi-lingual instructors, and we nearly always get very good feedback from our Camic guests. Now Camic runs scheduled (not flexible) trips that are 4D/5N to the Similans during high season.
Please note that some websites show the trips as 5D/4N to make you think you're getting a better deal, but this is incorrect and misleading. Do not trust websites that try to mislead you or are out of date. With Camic you get four full diving days and five nights in your cabin. You join in the evening, and leave in the morning.
In addition to great-value trips, including the free transfers and great food, MV Camic is among the least expensive liveaboard boats on which to take part in a PADI course, such as Advanced Open Water. Courses are taught by PADI instructors in a selection of languages.
MV Camic is a popular Similan liveaboard boat, on which groups of people can spend evenings chatting together while enjoying the views, the weather and each other's company. In the past, Camic has been criticised by some people for having too many day trip divers join, but the boat no longer runs that type of trip. That means that from October 2018, Camic guests & crew start and finish each Similan diving cruise together.
Genuine MV Camic Reviews
Read real reviews from people who have dived with MV Camic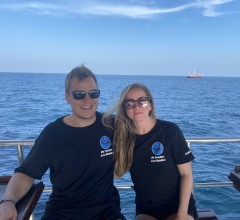 Hannah
Divers Nationality: British
Dive date: 12 December 2021
10

/

10
Amazing trip. Our first liveaboard so we wanted a small group. The Camic was perfect. All of the staff including the boat boys, kitchen staff and dive team were so friendly and wonderful to be around. They catered for my dietary requirement very well
. Our dive guide Toun was great and explained everything/ answered any questions we had.
...read more
Joe
Divers Nationality: British
Dive date: 12 December 2021
10

/

10
The trip was amazing. Great value for money. All the staff on the boat were extremely friendly and Jamie was a massive help with everything, he even helped us find dive watches the day before our trip.
Karin Raab
Divers Nationality: British
Dive date: 09 February 2019
10

/

10
Had the most wonderful 4 days aboard Camic - it was just fabulous. Denis was amazing , not only did he manage to get me through advanced , he laughed and encouraged us the whole time - the most delightful crew , always spot and helpful We had a gre
at group of fellow divers . It was an unforgettable trip. Loved it !!
...read more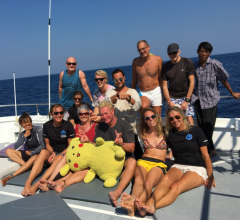 Tanya
Divers Nationality: British
Dive date: 09 February 2019
10

/

10
Fantastic! My first time on a livaboard and an awesome experience! A really great way to do some intensive diving. The staff and crew were helpful and friendly, the instructors were calm,experienced and knowledgable. I felt completely comfortable in
their hands, especially considering I hadnt done much diving over the years. The aquatic life was phenomenal and I will treasure the memories forever! If you are a keen diver this is a must!
...read more
Ann
Divers Nationality: British
Dive date: 26 January 2019
9

/

10
Fab dive trip on the Camic with Denis and Tik. The Similan islands never disappoint even after 20+ years! Saw a baby whale shark and narrowly missed a much larger one which another group did see. Will be coming back soon...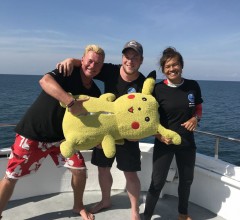 Pim
Divers Nationality: Dutch
Dive date: 17 December 2018
8

/

10
It was truly amazing!! Thanks Jamie, Dennis, Tik and the rest of the Camic team!!! After Jamie arranged a nice live aboard for me last year, I knew who to contact this year.. After some advise and tips from Jamie I picked my 5D5N live aboard. The MV
Camic departed in the evening. The next morning it was time for our first dive with dive guides Dennis and Tik. The enthusiasm of them and knowledge about the dive sites made the trip both, exciting and interesting. The Thai boat crew was very helpful with getting in and out the water with every dive. In between the dives the cooks did a great job in serving a variety of nice food. About the diving itself: the Andaman Sea is beautiful anyhow, but this year I am happy to say I saw manta's for the first time in my life. At Koh Bon two of them passed by several times. What an experience!! Impressive???????? Is there something to complain about as well? Beside a toilet that did not flush that well and a lack of freshly brewed coffee, no. And to be honest this was compensated well by all other positive experiences. Once again, Thanks Dennis, Tik, Camic crew and Jamie for this amazing trip!
...read more
Guillaume
Divers Nationality: Swiss
Dive date: 01 April 2018
10

/

10
An awesome trip surrounded by professionals and fun instructors. We opted for the 3 days live aboard, next time we will stay longer! Our instructors were Michiel, Jumbo, and Ronaldo, all brilliants, and adapted to our beginner level!
Alan
Divers Nationality: Hong Kongese
Dive date: 28 March 2018
hin
Divers Nationality: Hong Kongese
Dive date: 28 March 2018
8

/

10
this trip is my first dive trip out of hong kong _ i got a really good Experience... thank you all the instructor and boat crew