Please wait
Please wait loading cabin/trip info
MV Oktavia Overview
Read all MV Oktavia reviews
Type: Liveaboard
Departs from: Khao Lak.
No. of guests: 20
Prices from:
N/A
THB
per diver
MV Oktavia is a Similan Islands Liveaboard, Khao Lak based dive boat which offers wonderful liveaboard tours for divers as well as non-divers and even children. She is almost 30 metres in length and offers comfortable and spacious diving cruise trips at very competitive prices. The Swedish owners run a small professional team and ensure that every trip to the Similan Islands & Richelieu Rock is as safe and comfortable as possible. Although the boat is designed for up to thirty three guests, each trip is normally limited to just twenty in order to maximize the comfort and convenience for all on board. Nitrox fills are available. MV Oktavia has large and spacious master cabins as well as double and twin standard cabins, a large dive platform and a sun deck. There are hot water showers throughout, with the master cabins enjoying private en suite bathrooms. All passengers will enjoy air-conditioning and privacy at night, with somewhere to relax alone or socialize between dives and in the evenings. As well as offering the best diving experiences possible, the staff and crew appreciate the need for guests to visit beaches, take walks on the islands and snorkel in the warm and crystal-clear shallows. There's always something to do and see for those who don't dive, as well as those who want to do as much as possible between dives.
The best Similan diving liveaboard trips can be difficult to choose due to trip lengths and schedules. However, MV Oktavia has a novel solution. Most of the cruises are five days and five nights in length, but there is an option to only go out for two or three days. This is simply done by speedboat transfer to or from the ship which stays out at sea for the full five. One option is to sail out on MV Oktavia at the beginning of the dive cruise and return on a speedboat after two days and nights at the Similan Islands. The alternative is to take the speedboat out for the second half of the cruise, which visits Koh Bon, Koh Tachai, Richelieu Rock and Boonsung Wreck on a 3D/2N 10-dive itinerary. The speedboat journey is usually 1.5 hours. Those who are lucky enough to enjoy the complete 5D/5N cruise visit all the locations and get to dive 19 times. At the beginning and end of the season, Oktavia offers 4D/4N 15 dive trips which are comparable to most other liveaboard trips offered on our other boats.
A couple of other things which make Oktavia standout among its competitors are the itinerary beginning and the equipment storage. Firstly, the start of most liveaboard diving trips involves being taken to, or meeting at, the dive centre to complete paperwork and fit equipment. This can be a frustrating time for those who just want to get onto the boat and set sail. It also means that most boats which do this sail late into the night. Oktavia guests are taken straight to the boat and she sets sail earlier than most others, meaning that by the time most guests are settling down for their first night'ssleep on board, the ship has already reached its destination and there is less noise and movement to disrupt sleep. "What about the equipment?" some may ask. Well, due to Oktavia's large size and small number of guests on each trip, there is plenty of space aboard in their equipment room to keep everything on the ship, ensuring that there's no wasted time and always a spares available in the right size, just in case. Guests who need to pay the trip balance by credit card or have any other special circumstances will need to visit the dive centre in Khao Lak, and there are also those who will actually want to visit, but it's not necessary.
The Oktavia staff and management pride themselves on being absolutely honest and efficient in every piece of information they give customers, both before and after a booking is complete. Unlike many other boats in the region, Oktavia guarantee that each trip (Nov-Apr) will depart, regardless of how many guests have booked to join. This is especially comforting for those who want to book far in advance. It is not unheard of for customers on other boats to have their trip cancelled by the dive centre because not enough paying guests booked to make the trip financially feasible. That doesn't happen on Oktavia.
Genuine MV Oktavia Reviews
Read real reviews from people who have dived with MV Oktavia
Manuel
Divers Nationality: German
Dive date: 24 February 2020
8

/

10
Hello, Thank you for the great dive trip 3D/2N end of February. Great boat, great dives, great guides, great crew and great food. Unfortunately the visibility at Richeleu Rock was not that great, but that's life, and the mantas at Koh Bon made u
p for it! :) I have 1 big minus point: For a multi-day trip with 10 dives over 3 days, every diver must have their own dive computer! It is an absolute no-go these days that 2 divers made 10 dives within 3 days without their own computer! (And i do not accept the excuse that the guide watched this and took care about it..., because for example I dived always with this same group and I was already with 2 Minutes before deco, and the guide still had more than 10 minutes on her computer ...!) Its a No-Go these days! But overall really a great trip, and hopefully again!
...read more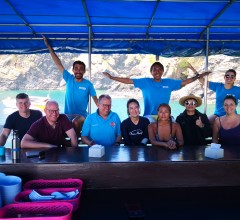 Plaggemeier
Divers Nationality: German
Dive date: 22 January 2020
10

/

10
Absolutely fantastic trip, in a dreamlike environment. The diving groups are reasonably sized (4 people per guide max) and the dive sites are amazing. Mantas until you stop watching at them and look for trevallies again. The diving instructors a
re great and the atmosphere aboard super chilly. Planning the trip with Jamie and Dom is more like setting up a trip with two buddies: super easy and relaxed, communication by WhatsApp with instant reply. I needed to reschedule, which was absolutely no trouble at all. The airline I booked gave me 10 times as much trouble... Any time again, guys, stay tuned ????????
...read more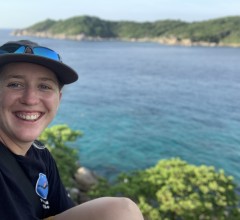 Kea
Divers Nationality: American
Dive date: 29 November 2019
9

/

10
Jamie from no troubles just bubbles was very helpful and patient! Dom in booking was quick to respond and very helpful, the boat crew was friendly and funny, the dive staff was knowledgeable and well balanced, the accommodations were fantastic, the f
ood was delicious and the diving was choice! Thanks Octavia staff!!! I will be back!!!
...read more
Jens
Divers Nationality: German
Dive date: 04 April 2019
10

/

10
Was my first liveaboard tour and one of the most relaxing things I ever did. The booking is super convenient and easy with a direct, very personal contact to Jamie. Questions are answered very quickly and precisely. The crew on board is helpfu
l and friendly, the cabins cosy and the dives were wonderful. Victor was a very relaxed and competent dive master and made the dives really enjoyable. Repetition probability: 100%
...read more
Stefano Fantoni
Divers Nationality: Italian
Dive date: 11 March 2019
9

/

10
I had a fantastic experience with the MV Oktavia !! I choose the 5D/5N package (March 11-16), and the trip was worth every $. Jamie set a new benchmark in organizing the logistics (super quick answers via email, always detailed and easy to follow), t
he dive masters on board are very friendly and competent and took excellent care of all of us (thx Fernando !!!). During the dives I saw Mantas, Whale Sharks and plenty more, starting from the check dive till the end of the trip it is a true pleasure to dive in the Similian. The boat is very comfortable and spacious, with plenty of space for socializing or simply enjoy the wonderful environment. Food is very tasty and abundant and also special dietary requirements are properly taken care of. The Thai crew doesn't speak English but they more than compensate with big smiles, an happy attitude and their willingness to help. Overall a wonderful experience, that I would highly recommend to anybody keen on diving and having a great time. THANKS AGAIN to the full Oktavia team !! :o)
...read more
Andy
Divers Nationality: British
Dive date: 11 March 2019
8

/

10
Overall a great liveaboard. Well organized, both before, during and after the boat trip. Locations have great diversity, from Macro to Whale Sharks and Mantas. Accommodation is basic - but good enough for 4-5days. Food is plentiful - with choic
es, but got a little monotonous.
...read more
Pero
Divers Nationality: Croatian
Dive date: 29 December 2018
9

/

10
Loved the whole trip! Excellent instructor and the team on the boat.
Michael Nekludov
Divers Nationality: Swedish
Dive date: 18 November 2018
9

/

10
We had an excellent diving trip with Octavia - a large group of 22 divers was successfully accomodated aboard, and we visited Similan Islands, Richelieu Rock and Surin Islands. We performed four dives daily in seven days, most of us on Nitrox. The cr
ew provided excellent service and were always very friendly. Good Thai food x4 daily. The guides were knowledgable and well organized. We saw lots of marine life - all from tiny odd creatures as Dragonet fish, Porcelaine crab etc. to magnificent Whale shark!
...read more