Please wait
Please wait loading cabin/trip info
MV Bunmee 3 Overview
Read all MV Bunmee 3 reviews
Type: Liveaboard
Departs from: Khao Lak.
No. of guests: 18
Prices from:
20,500
THB
per diver
Bunmee 3 has the best of everything. The steel-hulled boat is new, but run by one of the most-experienced teams in the area. All of this at prices which offer possibly the best value Similan liveaboard diving cruise.
Purpose built from new and launched for its first diving trip in 2015, Bunmee 3 benefits from many years of experience. The team are aware of what divers need and ask for, and they offer exactly the right balance of service, great diving, clean air-conditioned cabins, delicious food and large communal areas. With just 9 cabins, Bunmee 3's normal maximum guest capacity is 16 divers, but in certain cases 18 can join. Also, unlike some other boats, the Bunmee team don't try hard to fill the boat. Instead, they focus on making sure that those who join each trip enjoy the very best experience.
There are two main indoor decks on Bunmee 3. In addition there is a large sundeck on the boat's roof and on both decks at the front of the boat. Communal areas include the large, clean and well-organised diving deck, with a specially-designed material on the floor to ensure safe and comfortable walking and standing, and to protect any equipment that is dropped. Bauer compressors silently fill tanks with air or Nitrox between dives, and the large Nissan engines power the boat between the best diving areas. Upstairs, there is a large covered dining area, which is where most socialising, eating and briefings take place. There is a thorough explanation of each reef and its marine life before ach dive. This dining area has a large flat-screen tv which can be used to show videos and photos taken during the trip, or to enjoy Hollywood movies or documentaries at night. The food served on Bunmee 3 is simply delicious, so don't expect to lose any weight during your diving cruise. While most other Similan diving liveaboard boats serve every meal buffet style, Bunmee 3 allows guests to pre-order some meals.
Bunmee 3 has different cabins, in three levels of price and luxury. Even the most basic cabins are very nice. The standard cabins are available with twin single beds or a double bed. They are air conditioned and two cabins share one bathroom. The 'Comfort' cabins are also available as twins or doubles, and they have private en suite bathrooms and wall-mounted flat-screen TVs. Finally, the master cabin is located at the front of the main deck and has a large double bed as well as a single bunk that can be used as a sofa. Of course, this cabin has a private bathroom, too. Each cabin is cleaned daily, and upon request fresh towels are supplied. The staff and crew on Bunmee 3 do not share toilet or bathroom facilities with guests. The whole boat has the perfect blend of Thai hospitality and décor, with a professional European service from the experienced team.
In addition to the best team, wonderful food, comfortable cabins, and only visiting the best dive site in Thailand, Bunmee 3 also has free wi-fi when in range. This is becoming a more and more requested feature, and is very useful.
Now departing from Khao Lak's Kura Buri Pier, Bunmee 3 offers 2D/1N & 3D/2N diving cruises to the world-famous Richelieu Rock. You can join any day and stay for one or two nights. Transfers are by luxury minivan because the large transfer boat sails from Kura Buri Pier which is more than one hour by road. But the crossing from Kura Buri to Richelieu Rock is shorter, and done on a large, stable and comfortable boat on which you enjoy breakfast.
Genuine MV Bunmee 3 Reviews
Read real reviews from people who have dived with MV Bunmee 3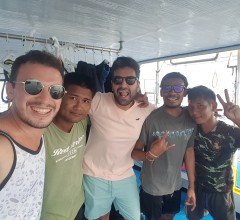 Juan Aguilar
Divers Nationality: Mexican
Dive date: 24 November 2019
10

/

10
We had a great experience at this liveaboard. Bang (Dive Master and guide) and his crew were amazing on every way possible; food, attention, kindness, helping with gear and equipment, and even flexible with lunch time and Dive times. Definitely on
e of the best Diving experiences I have ever had. Thank you Bunmee 3 Team for this wonderful experience, I hope to be back soon!! =)
...read more
Will
Divers Nationality: British
Dive date: 11 May 2019
8

/

10
An excellent boat trip!! Crew members are nice and helpful, instructors is professional and willing to explain in details. A little bit concern on the cleaning, there's cockroaches running one night...
Mike Teske
Divers Nationality: Canadian
Dive date: 05 February 2018
8

/

10
Spectacular dives at Richelieu Rocks. So much fish life! Had a Black Manta come in close and circle us at Hun Diang. The staff and crew bent over backwards to take care of us. They even put your fins on for you. To Greg, Pomme, Ae and t
he entire crew thanks for a great trip. Mike and Margo
...read more
Connie
Divers Nationality: American
Dive date: 01 February 2017
10

/

10
We had a great time on the MV Bunmee. Staff was so gracious and the boat was clean and comfortable. Food was fabulous! Kudos to the chef!