Please wait
Please wait loading cabin/trip info
Sorry MV Hallelujah we don't have trips for this boat at the moment.
These are some alternatives
---
MV Hallelujah Overview
Read all MV Hallelujah reviews
Type: Liveaboard
Departs from: Khao Lak.
No. of guests: 25
Prices from:
N/A
THB
per diver
MV Hallelujah is one of the largest and most comfortable Similan diving liveaboard boats. At 35 metres in length, she is stable & safe, and offers up tp 25 guests plenty of comfortable places to enjoy the times when they are not in the water. On the main deck there are twelve comfortable, air-conditioned guest cabins, all of which have private en suite bathrooms. Two deluxe cabins at the front of the boat have large double beds, and there are ten more twin bunk cabins. All have sea-view windows, hot showers, hand basins, proper toilets, and air conditioning. On the upper deck, there is also a VIP single cabin for one lucky guest. All cabins are cleaned daily, and they have space for storing personal items, and electrical sockets for charging devices. The whole boat is fitted with beautiful parquet wooden floors and walls, including the large indoor lounge. This is where guests enjoy most meals, although there is also a large outdoor dining area that is covered with a permanent ceiling and has removable 'weather walls'. There is a choice of places for guests to enjoy evening drinks, games and dive briefings.
Hallelujah's diving deck at the rear of the boat is very large, and the staff and crew are helpful & experienced. A boat's dive deck is a lot more important than many people may think. Its size and layout can make a big difference to how each diving guest feels before and immediately after each dive. If the layout is practical and there is plenty of space to sit in your gear or move around, then the comfort and whole experience is much nicer. Hallelujah is a purpose-built scuba diving liveaboard, and its dive deck was designed to accommodate a full boat of diving guests and staff. This includes a sensible position for items like the compressor and Nitrox membrane, so that they are not in the way of divers, and they can work silently while guests are eating, sleeping, or relaxing.
There is also a big sundeck on the top of Hallelujah, which is where many sun worshippers spend a lot of time. This is a great place to gaze at the clear star-filled skies that are almost guaranteed throughout the Similan diving season. If the weather is too hot, or during an occasional rain shower, Hallelujah's lounge saloon is very comfortable, with plenty of good movies to watch and books to read. During meal times, great food is served and most special dietary needs can be catered for - but please let us know before your trip! It is almost guaranteed that guests gain a little weight while on a Hallelujah trip, because diving is hungry work and the food is so delicious.
What makes Hallelujah's trips more special than most other Similan liveaboards is the excellent organisation and service. Everything is prepared in advance, including the equipment, dive groups, cabin allocation and food. The team are very experienced and professional, and their great reputation means that many trips are fully booked in advance. Also, with Early-Bird discounts, it's good to book your Hallelujah trip before the end of August. And the team sometimes offer discounts for remaining spaces in April, but these discounts are rarely offered before March.
Please note that diving insurance is mandatory, but can be bought on board for a very reasonable rate. Also, some other websites show Hallelujah's trips as 5D/4N (five days & four nights) but this is not correct. Every Hallelujah trip departs in the evening, and returns mid-afternoon four days later. Although the trips span five calendar dates, they are less than 96 hours and therefore very much 4D/4N. Please do not be misled by websites who pretend the trip is longer than it really is. We feel that these websites are trying to make their 'per day' price look cheaper than reality.
MV Hallelujah Facilities, Layout & Specifications
MV Hallelujah Facilities
Nitrox
En Suite Available
Air Con
Dinghy
Courses Available
Free Pickup
Suitable For Children
Single Cabins Available
Lounge
All Cabins En Suite
Av Entertainment
Vegetarian Food Available
Double Beds Available
Sundeck
Shaded Sundeck
Available To Charter
MV Hallelujah Specifications
Length:
35m.
Beam:
7.6m.
Hull:
Steel.
Engines:
2x 450 HP Hino.
Generators:
2x 25 kw.
Compressors:
1x Bauer Mariner SP Electric with Nitrox unit, 2 x Coltri compressors and 60 Aluminum alloy tanks.
Navigation:
GPS Plotter and Depth Sounder.
Cruising Speed:
8-12 Knots.
Maximum Speed:
15 Knots.
Fuel Capacity:
15,000 Litres.
Fresh Water Capacity:
25,000 Litres.
Safety:
4x Life rafts, life jackets, medic first aid station, 6,000-litre oxygen supply, closed-circuit video on the dive station and in the engine room, fire extinguishers.
Dinghy:
1x 4.8m 25HP outboard.
MV Hallelujah Courses
Spending four days and nights cruising the best diving spots in Thailand and mixing with like-minded guests and PADI & SSI scuba instructors is the ideal opportunity to take part in a scuba diving course. The team of diving staff on MV Hallelujah are happy to help anyone improve their ability or certification as a scuba diver. The most popular courses the Advanced Open Water course, which is more fun than theory and perfectly complements the diving conditions around the Similan & Surin Islands.
What makes taking a diving course aboard Hallelujah stand out from all the other diving boats at the Similan Islands is that they offer both PADI courses as well as SSI. There is very little difference in what is learned between the comparable courses, but SSI are slightly less expensive due to the materials' costs. When taking part in a PADI course, each student receives a manual and their card has to be sent from the nearest international PADI centre.
For those interested in taking part in a diving course aboard MV Hallelujah, advance booking is not always necessary, but highly recommended to ensure that the materials are available in the preferred language and to enable the staff to plan the trip and instructors accordingly. The most popular courses and their prices can be seen in the table below, but there are other courses available on request. Please feel free to contact us with any questions about taking a diving course on this wonderful liveaboard diving boat.
Courses
Courses
Prices

Adventure Buoyancy Control

(1 Dive)

1,000

THB

(1 Dive)

1,500

THB

(1 Dive)

1,500

THB

SSI:

Advanced Open Water Diver

(5 Dives)

7,000

THB

SSI:

Nitrox (EAN Enriched Air Nitrox 32%)

(2 Dives)

7,000

THB

(4 Dives)

7,000

THB

Underwater Digital Photographer

(4 Dives)

7,000

THB

PADI:

Advanced Open Water Diver

(5 Dives)

8,500

THB

PADI:

Nitrox (EAN Enriched Air Nitrox 32%)

(2 Dives)

8,500

THB
We are unable to offer discounts to e-learning students (referrals) on the already-competitive rates above.
The 'dives' are not extra to the liveaboard cruise for those who join the trip as divers, but are included in the 14 dives of each cruise. They are course dives with a certified instructor, rather than fun dives with a Divemaster guide.
MV Hallelujah Itinerary
The trip begins with an afternoon pick-up service from guests' hotels and Phuket airport, transferring them to Tab Lamu Pier in Phang Nga, which is north of Phuket. Guests are shown to their cabins and introduced to the staff and crew, as the ship departs in the early evening and dinner is served. Equipment fitting and first grouping of divers takes place before bed, in preparation for the first dive the following morning. Hallelujah sails smoothly through the night, arriving at the Similan Islands before midnight. The very first dive of the trip is known as a 'check dive' enabling the course leader, instructors and Divemasters to assess each divers' ability, thus making sure everyone gets as much good-quality diving by being with other divers of the most similar level. This 'check dive' takes place at an easy dive site.
There is no diving on departure day, because it's usually already dark when Hallelujah departs, and around midnight when the boat reaches the Similan Islands.
There are up to 4 dives per day for 3 days, then up to 2 dives on the final day of the trip.
Hallelujah returns to Tab Lamu Pier around 2pm on the final day, and guests are then transferred to their chosen hotels in Khao Lak or Phuket.
Some websites claim the Hallelujah trips are 5D/4N but this is misleading. The boat departs in the evening and returns four days later in the afternoon. They span five calendar dates, but they are 4 days & nights, not longer.
The link below is a more-detailed explanation of Hallelujah's Similan liveaboard itinerary.
MV Hallelujah Transfer Details
Hallelujah guests can enjoy free scheduled pickup/drop off from/to hotels and resorts in Phuket & Khao Lak to the boat at Tab Lamu Pier. These transfers usually begin mid-afternoon for pickup, arriving early evening for an evening departure. After the trip, guests can be taken (for free) around most of Phuket & Khao Lak.
Please note that pickup times are set, because the vehicles collect other Hallelujah guests who are joining the same trip.
---
For customers who would like a private taxi please see below for details.
(Click below for a rough guide to the rates you can expect to pay 'per vehicle,' not 'per person'.)
MV Hallelujah Schedule & Prices
Do you have a large group and want to charter the whole boat?
click below to find out more
Included In The Price
---
Transfers to & from the airport
Transfers to and from local hotels
Meals
Snacks
Tea / coffee
Drinking water
VAT
Weights & weightbelts
Standard tanks
Dive master services
Towels
Soap & Shampoo
Luggage storage
Not Included In The Price
---
Dive equipment
National park fees
Dive computer
Soft drinks
Alcoholic drinks
Dive insurance
Night diving torch
Larger tanks
Nitrox
Mask and Snorkel
Open-heel fins
Full-foot fins
Tips / Gratuities
View more available months
7 Reasons to Book with us:
Best-price guarantee, AND get FREE gifts.
We don't ask for any payment or your

card details

until you are ready to

confirm

your booking.
For safety reasons, it's impossible to

complete

a

booking instantly online

, as some other websites claim to offer.

We always check first

as each boat has a different criteria regarding diver details &

experience

.
We offer each boat's booking & payment policy (below). Some other websites have standardised terms, asking for full payment but many boats' payment terms are a 20-30% deposit, and the balance paid on arrival.
Our Thailand-based staff are experts about logistics, the

dive sites

& all the

boats

. Take a look at the reviews on

our site

&

tripadvisor

.
Our team are always online to answer your questions. We always respond the same day , usually within a

few minutes



Customer service is everything!

For example, if a trip is cancelled, we will ensure you can choose between an

alternative

similar trip or a

full & unconditional refund

.
MV Hallelujah: Booking Procedure / Terms & Conditions:
The booking process for MV Hallelujah is very simple & convenient. Firstly, ask us to reserve a space in the cabin of your on the date/trip that you would like to join. We are happy to do this for free, and without any commitment from you. When you are ready to confirm, we ask for 30% of the cruise price as a deposit. This payment is most-commonly made via PayPal, and there are no fees. You don't even need a Paypal account, although PayPal do encourage you to open one. The PayPal invoice can be sent to any email address and payment can be made by anyone.
The 70% balance is due 6 weeks before departure. Again, this payment can be made via PayPal. Balance payments attract a small bank fee of 2.5%. However, if guests choose to pay the full cruise price at the time of booking, or make a Thai bank direct transfer, there are no fees.
Extras, such as national marine park fees and maybe equipment hire or other items, can be paid when you arrive in Khao Lak or on board the boat. Card payments attract 5% bank fees.
Cancellation policy:
The Hallelujah management are both considerate & flexible whenever possible regarding customer cancellations, but are also in a competitive business.
The official cancellation policy is as follows:
60+ days before departure = refund of deposit, minus 1,000 THB + any bank fees incurred doing so
45-60 days before departure = 20% of the cruise price forfeited
0-45 days before departure = 75% of the cruise price forfeited
Most travel insurance policies can protect you from unforeseen cancellation penalties.
Genuine MV Hallelujah Reviews
Read real reviews from people who have dived with MV Hallelujah
Javier
Divers Nationality: Argentinean
Dive date: 09 January 2019
9

/

10
Nice experience! Nice crew, nice services andas fantastic dives!
Stone family
Divers Nationality: South African
Dive date: 24 December 2018
9

/

10
The trip was fantastic, with Boots and his team supporting us at all times. Indy (our specific divemaster) was great and accommodated our significant lack of experience with great calm and support. We absolutely recommend Big Blue Diving, Khao La
k to anybody looking to experience great individualised support and attention.
...read more
Oliver Buchmann
Divers Nationality: Canadian
Dive date: 15 November 2018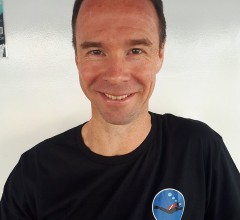 Peter Frayne
Divers Nationality: Australian
Dive date: 22 October 2017
10

/

10
This was a seamlessly professional Trip from booking to disembarking. Jamie from NoToublesJustBubbles was attentive, credible, reliable and terrific in all dealings. On board the MV Hallelujah, the DM's and Staff were polite, friendly, knowledgeable,
safe, and professional. A special thank you to Miro, our DM and friend. Underwater, of course, The Similans are a must see for any keen diver. Tasty, healthy, and abundant food. Clean and comfortable cabins and facilities. Well run operation. Brilliant Trip. Just do it.
...read more
Dive date: 20 November 2015
We had a great experience booking through Similan Diving Tours. We contacted several tour agencies when we were planning our trip however decided to go ahead with the booking through Similan Diving Tours as Jamie responded to our questions quickly an
d informatively. We received honest feedback about the different vessels and were able to select a liveaboard that suited our budget, diving experience and age group. The crew onboard Hallelujah were without exception, very friendly, professional and accommodating. We dived in a group of 3 divers of similar ability. Our dive guide accommodated our different interests (ie photography) and although some of the dive sites were quite busy, planned our dive so that we were able to enjoy the dive without being crowded. I would thoroughly recommend Similan Diving Tours and Big Blue. Thank you for such a wonderful and memorable holiday.
...read more