Please wait
Please wait loading cabin/trip info
MV Hallelujah Overview
Read all MV Hallelujah reviews
Type: Liveaboard
Departs from: Khao Lak.
No. of guests: 25
Prices from:
N/A
THB
per diver
MV Hallelujah is one of the largest and most comfortable Similan diving liveaboard boats. At 35 metres in length, she is stable & safe, and offers up tp 25 guests plenty of comfortable places to enjoy the times when they are not in the water. On the main deck there are twelve comfortable, air-conditioned guest cabins, all of which have private en suite bathrooms. Two deluxe cabins at the front of the boat have large double beds, and there are ten more twin bunk cabins. All have sea-view windows, hot showers, hand basins, proper toilets, and air conditioning. On the upper deck, there is also a VIP single cabin for one lucky guest. All cabins are cleaned daily, and they have space for storing personal items, and electrical sockets for charging devices. The whole boat is fitted with beautiful parquet wooden floors and walls, including the large indoor lounge. This is where guests enjoy most meals, although there is also a large outdoor dining area that is covered with a permanent ceiling and has removable 'weather walls'. There is a choice of places for guests to enjoy evening drinks, games and dive briefings.
Hallelujah's diving deck at the rear of the boat is very large, and the staff and crew are helpful & experienced. A boat's dive deck is a lot more important than many people may think. Its size and layout can make a big difference to how each diving guest feels before and immediately after each dive. If the layout is practical and there is plenty of space to sit in your gear or move around, then the comfort and whole experience is much nicer. Hallelujah is a purpose-built scuba diving liveaboard, and its dive deck was designed to accommodate a full boat of diving guests and staff. This includes a sensible position for items like the compressor and Nitrox membrane, so that they are not in the way of divers, and they can work silently while guests are eating, sleeping, or relaxing.
There is also a big sundeck on the top of Hallelujah, which is where many sun worshippers spend a lot of time. This is a great place to gaze at the clear star-filled skies that are almost guaranteed throughout the Similan diving season. If the weather is too hot, or during an occasional rain shower, Hallelujah's lounge saloon is very comfortable, with plenty of good movies to watch and books to read. During meal times, great food is served and most special dietary needs can be catered for - but please let us know before your trip! It is almost guaranteed that guests gain a little weight while on a Hallelujah trip, because diving is hungry work and the food is so delicious.
What makes Hallelujah's trips more special than most other Similan liveaboards is the excellent organisation and service. Everything is prepared in advance, including the equipment, dive groups, cabin allocation and food. The team are very experienced and professional, and their great reputation means that many trips are fully booked in advance. Also, with Early-Bird discounts, it's good to book your Hallelujah trip before the end of August. And the team sometimes offer discounts for remaining spaces in April, but these discounts are rarely offered before March.
Please note that diving insurance is mandatory, but can be bought on board for a very reasonable rate. Also, some other websites show Hallelujah's trips as 5D/4N (five days & four nights) but this is not correct. Every Hallelujah trip departs in the evening, and returns mid-afternoon four days later. Although the trips span five calendar dates, they are less than 96 hours and therefore very much 4D/4N. Please do not be misled by websites who pretend the trip is longer than it really is. We feel that these websites are trying to make their 'per day' price look cheaper than reality.
Genuine MV Hallelujah Reviews
Read real reviews from people who have dived with MV Hallelujah
Javier
Divers Nationality: Argentinean
Dive date: 09 January 2019
9

/

10
Nice experience! Nice crew, nice services andas fantastic dives!
Stone family
Divers Nationality: South African
Dive date: 24 December 2018
9

/

10
The trip was fantastic, with Boots and his team supporting us at all times. Indy (our specific divemaster) was great and accommodated our significant lack of experience with great calm and support. We absolutely recommend Big Blue Diving, Khao La
k to anybody looking to experience great individualised support and attention.
...read more
Oliver Buchmann
Divers Nationality: Canadian
Dive date: 15 November 2018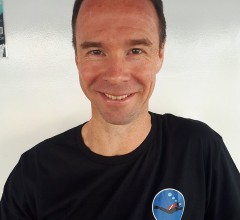 Peter Frayne
Divers Nationality: Australian
Dive date: 22 October 2017
10

/

10
This was a seamlessly professional Trip from booking to disembarking. Jamie from NoToublesJustBubbles was attentive, credible, reliable and terrific in all dealings. On board the MV Hallelujah, the DM's and Staff were polite, friendly, knowledgeable,
safe, and professional. A special thank you to Miro, our DM and friend. Underwater, of course, The Similans are a must see for any keen diver. Tasty, healthy, and abundant food. Clean and comfortable cabins and facilities. Well run operation. Brilliant Trip. Just do it.
...read more
Dive date: 20 November 2015
We had a great experience booking through Similan Diving Tours. We contacted several tour agencies when we were planning our trip however decided to go ahead with the booking through Similan Diving Tours as Jamie responded to our questions quickly an
d informatively. We received honest feedback about the different vessels and were able to select a liveaboard that suited our budget, diving experience and age group. The crew onboard Hallelujah were without exception, very friendly, professional and accommodating. We dived in a group of 3 divers of similar ability. Our dive guide accommodated our different interests (ie photography) and although some of the dive sites were quite busy, planned our dive so that we were able to enjoy the dive without being crowded. I would thoroughly recommend Similan Diving Tours and Big Blue. Thank you for such a wonderful and memorable holiday.
...read more